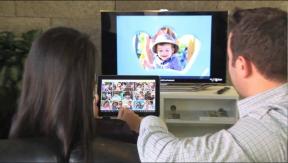 Tampa Bay, Fla. — iSimple has launched its SwitchPlay cable, meant for use with rear-seat entertainment systems.
Designed to work with 30-pin iPods, iPhones and iPads, the SwitchPlay (IS7603) lets users switch video playback between their Apple device and the vehicle's display screen using a button on the connector. Suggested retail is $54.95.
It was built in conjunction with Stinger Electronics, and iSimple said the cable will install easily in most vehicles. The SwitchPlay also supports battery charging (2.1 amps at 5 volts) for most Apple models.
It's currently available for order from iSimple's parent company, Aamp of America.