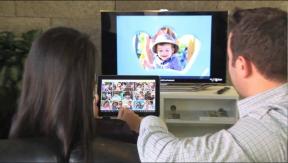 Sunrise, Fla. — IK Multimedia has begun shipping the iRig BlueBoard, a wireless MIDI pedal board for use with iOS devices.
The device lets iPhone, iPad, iPod Touch and Mac users transmit MIDI messages to devices via Bluetooth 4.0.
Setup is designed to be simple, with consumers just needing to turn on the device, launch the app, and assign the backlit pads to the desired control function. The app and software will convert Bluetooth signals to MIDI messages and route them to the music app running on the device, the company said.
IK Multimedia said any music app, Mac music-software app that is MIDI compatible, or any Core-MIDI-compatible app can be controlled wirelessly.
Users are also able to add up to two standard additional expression pedals or footswitches via the unit's two TRS 0.25-inch expansion jacks.
The iRig BlueBoard measures 10.6 inches by 3.5 inches by 0.8 inches, and is powered via four AAA batteries.
Suggested retail is $99.99.