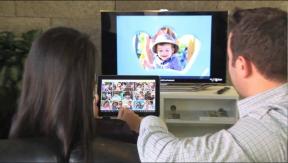 Indianapolis — hhgregg will expand its furniture assortment and boost its major appliance profile in pursuit of higher sales and profits.
The merchandising strategy is part of a three-point plan to boost margins and increase comp sales, both of which have faltered in recent quarters.
The plan, which also includes a new marketing slant, increased consumer financing offers, and online and mobile shopping improvements, was shared with investors during a late-day earnings call yesterday after the company reported an 81 percent decline in fourth-quarter earnings.
The strategy takes a page or two from Conn's, another multiregional big-box chain, which reversed its flagging fortunes by emphasizing furniture, appliances and ready-credit programs.
President/CEO Dennis May said that following a successful launch of home theater furniture last fall, the company is expanding its living room offerings and is testing dinette sets and bedroom furniture in 17 Chicago stores in preparation for a Labor Day rollout.
The multiregional chain will also put more marketing muscle behind major appliances, which is now the company's core category. May said majap comps have grown for the last seven consecutive quarters, and that "strong tailwinds" from an improving housing market will provide a long runway and continued share gains for white goods.
In contrast, the company has narrowed its TV assortment amid projected industry declines in the mid- to high-single digits this year. Culled were small, midsize and opening-price-point models, which are readily available elsewhere, as the chain focuses instead on large, fully featured displays.
May noted that while hhgregg currently carries two Ultra High-Definition TV sets — Sony's 55- and 65-inch XBR-X900A series — and will add Samsung and LG models this summer and fall, 4K will comprise less than 1 percent of industrywide TV sales this year, and is not yet "a material business."
The retailer has also sharply edited its mobile assortment down to Apple and Samsung handsets. The two brands alone are "really driving demand, and are just as productive in sales" as maintaining a wider selection, May said.
Meanwhile, hhgregg is looking to widen its customer base by offering shoppers easier credit terms. The financing vehicles include a rent-to-own program and a secondary offering for consumers who don't qualify for the company's private-label credit card, which itself represents some 34 percent of sales. The rent-to-own program is currently available in two-thirds of hhgregg stores and will be offered chain-wide by the holidays.
The company will also debut a new marketing campaign during the second quarter developed by recently hired ad agency Leo Burnett. The marketing effort, along with the introduction of new CE technologies, like its fourth-quarter rollout of Apple iPads and iPods, are designed to drive greater store traffic.
May said the company has also redesigned its e-commerce site with improved navigation, and will dramatically expand its online assortment this summer through a fulfillment program with an unnamed distributor. The deal will provide an "endless aisle" of products that are unavailable in the stores.
The chain will also add transactional capabilities and greater functionality to its mobile commerce site, and is rolling out a new point-of-sale system to its stores this summer that is better integrated with hhgregg.com and will allow for faster checkouts.
May said the company remains committed to building a national footprint, but will limit its new-store expansion to five locations this year as it focuses on growing sales and profits within its current markets.
Elsewhere, May noted that vendors' UPP plans have succeeded in stabilizing pricing and limiting volatility, and praised his company's price-matching program, which allows consumers to purchase with confidence and doesn't impact margins. "Price transparency is good," he said.
May added that company is seeing increased traffic and improving sales trends across all categories this spring amid growing consumer confidence.
Latest posts by Alan Wolf
(see all)