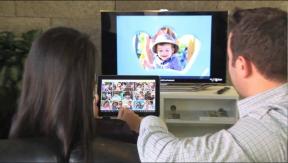 New York – DTS subsidiary Phorus has developed a multizone wireless-audio technology that, for the first time, brings Apple AirPlay-like features to Android smartphones and tablets and to Amazon's Android-based Kindle tablets.
The technology, named DTS Play-Fi, also offers some advances over AirPlay.
Play-Fi will appear in a Phorus-branded $199-suggested tabletop speaker and in a $149 tabletop transmitter/receiver, which connects to a home's existing hi-fi systems and tabletop speakers via analog output. Bother products will be available Oct. 1 through Amazon and Phorus's web stores.
The DTS subsidiary, based in Encino, Calif., also plans to leverage DTS's audio-licensing expertise to persuade suppliers of A/V receivers, tabletop speakers and other home-audio products to embed the technology in their products.
The technology could easily be applied to Apple's iOS devices and to Windows-based smartphones and tablets, but Phorus is focusing on Android for now because of Android's large installed base.
With the products and an Android app downloaded from the Google and Amazon stores, consumers will be able to stream MP3 and FLAC files stored in native form on their Android devices to multiple speakers and transmitter/receivers throughout the house via Wi-Fi 802.11b/g/n. Android devices will also stream music files stored on a DLNA-connected PC or network-attached storage (NAS) drive, then redirect the files to the Play-Fi devices.
The company plans an upgrade to add streaming of native AAC and Ogg Vorbis files.
The Play-Fi app will also support streaming of Pandora apps loaded onto Android devices, and the company plans to add support for additional Internet music services.
Although the technology uses a home's Wi-Fi network, Phorus CEO Dannie Lau told TWICE that the company overcame Wi-Fi quality-of-service limitations by prioritizing Play-Fi traffic on a Wi-Fi network, compensating for the typical types of interferences suffered by Wi-Fi networks, and synchronizing audio throughout the house by reducing latency to 7ms, which he said is not noticeable.
With the technology, a mix of up to eight Phorus speakers and Phorus-enabled sound systems will play simultaneously, and up to four Android devices will be able to stream music simultaneously over the Play-Fi network. Up to four speakers can be synced to play back the same Android source.
Apple AirPlay, in contrast, enables Apple's smartphones and tablets to stream music to only one AirPlay-enabled device at a time, although music stored on an iTunes-equipped computer can be streamed to multiple AirPlay devices at the same time.
Other Play-Fi features include the ability of the Android Play-Fi app to control Play-Fi speaker and receiver/transmitter functions, including remote control of on/off, volume and selection of speakers that will play back a stream. The app supports Android 2.2 devices and up as well as the Kindle Fire and Kindle Fire HD tablets.
Play-Fi also lets consumers use any of their other Android apps while music streams from the Android device.
Each Play-Fi device automatically connects to the Wi-Fi network in less than a minute once the user inputs the network's password into the Play-Fi app, Lau added. Up to 16 playback devices can be connected to a Play-Fi network, though only eight at a time will play.
Other features of the Phorus speaker and receiver/transmitter include stereo Bluetooth to play back music from other mobile devices, including Apple and Windows Phone devices. The Bluetooth-connected speaker, however, won't redirect music in the Bluetooth stream to other Play-Fi speakers.
The speaker features 2×7.5-watt amp, a cradle to hold an Android device, a USB port to charge the Android device and a 3.5mm analog output. The receiver/transmitter also features a 3.5mm analog output.
Phorus plans to promote its products through social media and websites that attract music enthusiasts and Android users.