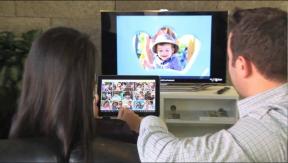 Denver – Dish Network used its biggest presence at CEDIA Expo in years to announce plans to integrate Control4 home automation technology into its Hopper whole-home DVR platform.
Under the plan, owners of Dish's Hopper will be able to control the device through the Control4 home integration network, which is a popular platform in both high-end and mainstream home automation installations.
The capability is the first announced enhancement to evolve from Dish Network's recently announced policy of sharing its Application Programming Interface (API) programming instructions for the Hopper with select partner companies.
Dish will implement the Control4 Simple Device Discovery Protocol (SDDP), to make it easier for automation installers to fully integrate the functionality of the Hopper receiver and services.
Vivek Khemka, Dish product management senior VP, said, "Working with Control4 is only the first step, and it's also the direct result of our decision announced in July to open the Hopper platform and its capabilities to more companies."
Eric Anderson, Control4 senior VP, said the integration of SDDP into the Hopper along with Dish's shared APIs, "installation and programming of this popular DVR and service is radically simplified."
Dish said the integration will start with showcasing full Hopper remote control tuning capability, and as integrators become more familiar with Dish's API, apps and devices will be able to access the full range of Hopper features.
In other news, Khemka said during a press conference here that Dish continues to study the rollout of 4K Ultra HD TV sets and devices to determine the best time implement native 4K programming and channels. Currently, the industry continues to await standardized compression systems that will make 4K satellite transmissions feasible, but he added, that Dish's current hardware will not support proposed schemes like HEVC.
However, Khemka vowed that Dish will stick to its mission of giving consumers what they want, and will move forward with offering 4K content when there are enough 4K households to drive satisfactory demand.
Joseph Clayton, Dish president and COO, said that if and when Dish decides to offer a 4K solution or any other new technology: "it better be affordable, easy to use and give you the ability to take your content anywhere."