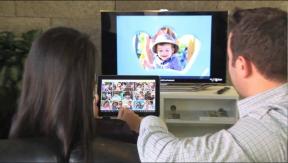 New York – CE played varying roles in the solid year-end sales results reported by big-box chains.
Conn's, the multiregional retailer, said soaring furniture and mattress sales offset a 4.8 percent decline in January CE comps to deliver a 10 percent increase in same-store sales.
Similarly, Target reported a "slight decline" in January comps for its hardlines category, which includes CE.
In contrast, No. 1 wholesale club Costco cited CE as one of the "better-performing" categories within its hardlines business, which rose by the mid-single digits in January.
Conn's said net sales for its fiscal fourth quarter ended Jan. 31 rose 9.9 percent to $208.4 million while comps increased 7 percent, representing the company's sixth consecutive same-store sales gain.
CE comps fell 11 percent for the quarter, which chairman/CEO Theo Wright attributed to reduced industrywide demand. Still, sales of TVs 60 inches and larger rose 40 percent, accounting for nearly half of all TV revenue, and tablet sales skyrocketed 140 percent, partially offset by lower computer unit volume and fewer accessory sales.
CE's higher gross margin rates and increased gross profit year over year more than offset the category's sales decline, Wright said.
Also offsetting CE sales weakness was a 40 percent spike in furniture and mattress comps, a 22.5 percent comp increase in extended-service contract commissions, and a 12 percent gain in same-store sales of major appliances.
Within the latter, dollar volume rose 9.5 percent for laundry, 15.8 percent for refrigeration and 18.6 percent for cooking, although total majap unit volume was down 7.3 percent, partially offsetting a 21.5 percent increase in average selling prices (ASPs).
Retail gross margin rose 700 basis points to 36.5 percent during the quarter as the high-margin furniture and mattress business grew from 13.6 percent to 19.1 percent of the sales mix, and CE decreased from 41.2 percent to 34.7 percent of total sales. The majap mix remained relatively flat, edging up from 23.7 percent to 24.2 percent.
Wright said the company is improving its execution and sees "many remaining opportunities for growth in furniture and mattresses." The chain is also improving its new-store opening process, he said, as three of the four locations opened during the quarter were among the retailer's top-five performing stores in January.
Conn's will report its fourth-quarter and full-year earnings results on April 3.
Elsewhere, Target said net sales rose 30 percent in January to nearly $6 billion, aided by the addition of a fifth accounting week. Comps for the four-week period were up 3.1 percent as customers "responded to clearance prices on holiday inventory," chairman, president and CEO Gregg Steinhafel said. "Our guests continue to shop with discipline in the face of a slow economic recovery and new pressures, including recent payroll tax increases."
At Costco, net sales rose 7 percent in January to $9.4 billion and U.S. comps increased 4 percent excluding the negative impact of gasoline prices. The company's CE business ended out 2012 with a continuation of its year-long rebound from the comp declines of prior years, as the rollout of higher-priced 70-inch and 80-inch displays mitigated the impact of falling TV ASPs.
Like Target, Alco, the full-line, 217-store discount chain, said a fifth fiscal week pushed January net sales up 26 percent to $34.8 million, while comps declined 1 percent excluding fuel and the extra accounting week. President/CEO Rich Wilson said, "Consumer spending was subdued amid uncertainty on the future of the economy with the fiscal cliff, payroll tax increase and other issues in the period."
For the quarter, Alco's net sales were up 8.3 percent to $145.1 million, and adjusted comps decreased 0.5 percent. For the full year, net sales rose 3.6 percent to $485.7 million, and adjusted comps declined 1 percent.