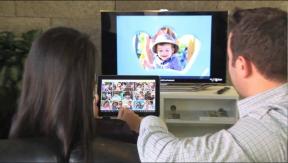 New York — Bose came to noisy Grand Central Terminal, here, to expand its noise-canceling headphone lineup with its first in-ear noise-canceling model, said to be the first in the industry with a selectable Aware mode that lets users hear car horns or conversations while listening to music.
In adding a second portable Bluetooth speaker to its selection, Bose unveiled a palm-size compact model said to deliver high-power full-range sound despite its small size. The 2-inch by 7.1-inch by 2.3-inch speaker is a third of the size of a larger portable Bluetooth speaker already in Bose's lineup.
The QuietComfort 20 in-ear headphones will ship sometime in the summer at $299 with hands-free phone capability. An iPhone version will add a three-button in-line remote. The new models will join the $299 QuietComfort around-ear noise-canceling headphones and the $349 on-ear noise-canceling headphones to round out the line. The new model will be available through Bose's direct channels, including Bose stores, and through select authorized dealers.
The $199 SoundLink Mini Bluetooth speaker will be available July 11 through all Bose's direct channels and authorized dealers.
Brian McGuire, product and marketing manager for headphones, called the new headphones "a game changer" because consumers don't have to remove their headphones to stay in touch with the outside world.
When selected, Aware mode maintains low-frequency noise cancellation, scales back midrange noise cancellation, and lets high frequencies pass through the headphone's microphones so that users can hear what's going on around them while continuing to listen to music, explained Sean Garrett, VP of the noise-reduction technology group. Some other noise-canceling headphones, in contrast, force users to turn off music playback and noise-cancellation circuitry to let conversations or train-track announcements pass through the headphone's microphones, he said.
The new headphones deliver noise cancellation "comparable" to that of the $249 around-ear QuietComfort 15 noise-canceling headphones, though in situations such as airplane travel, the QC15 "might deliver a little more noise reduction at the lowest frequencies," Garrett said. The new headphones will exceed the noise-reduction capabilities of the $349 on-ear noise-canceling headphones, he added.
The 1.5-ounce in-ear model delivers bass response "expected from much larger headphones," said McGuire, citing active EQ to tune frequency response, a TriPort bass port on the ear buds, and silicon StayHear+ ear tips that sit at the entrance of the ear canal to create an acoustic seal and passively block outside sounds. Because of the ear-tip design, the ear buds do not have to be inserted far into the ear canal to create a seal as competing designs require. The design also allows for a secure fit, the company said.
The headphones feature a 16-hour rechargeable battery and will continue to let listeners listen to music when the battery is depleted.
In developing the SoundLink Mini, McGuire said Bose held off making a compact model until it could make one that delivered full-range sound. To do so, the company employed a racetrack-shape passive radiator on the front and back with patented alternating half-roll surround to extend excursion and deepen bass response, the company said. The company also designed a new highly efficient mid- and high-frequency driver with neodymium-ring magnets to move twice the amount of air that other drivers of the same size do, McGuire said. Each stereo driver is slightly more than an inch in diameter. Bose also employed DSP to maintain tonal balance.
The 24-ounce speaker features aluminum chassis, charging cradle, seven-hour playback time, and optional $24.95 silicon soft covers in orange, green and blue. Bluetooth AVRCP enables chassis-top controls to remotely select next and previous track on a Bluetooth-linked mobile device.
The Mini is about half the weight of the SoundLink Mobile Bluetooth speaker that it joins. That product retails for $299 with nylon cover that folds over the front for carrying. A $349 version comes with leather cover.
The Mini also joins the company's AirPlay speaker, the $349 SoundLink Air with optional $89 rechargeable battery.
Latest posts by Joseph Palenchar
(see all)