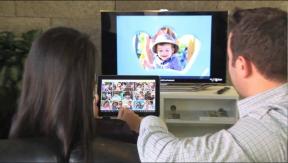 Las Vegas — Azione Unlimited (AU), the education and buying group for custom retailers and integrators, has introduced a bevy of new services for members.
The programs, which include website design, sales training and recruitment tools, were rolled out at the group's spring conference here last week at the Hard Rock Hotel.
Tom King, president of AU's ad agency 23K Studios, demonstrated sleek and dynamic websites that can be fully functional within two weeks and provided for less than $4,000. "Because we know this market so well, it was easy to build a website platform that combines a robust user experience with the ability to customize each website to the unique needs of each retailer/custom integrator," he said. "With this price point and rapid deployment, it should be a no brainer for members."
Dave Chace, president of Training Allies, showed dealer and vendor members the first of a series of selling skills modules titled "Qualifying Like a Pro." Said Chase, "The overwhelming consensus among the Azione members is that these modules will help the dealers land more business, and close bigger deals."
Additionally, Azione presented its members with two methods of recruiting qualified, dependable talent. "Our dealers' No. 1 problem is hiring good people. They are too busy and with that in mind we have given them a tool that will target ex-military people to fill the vacancies," noted AU founder and executive director Richard Glikes.
He added that "vendor programs are not enough, and that a full complement of services makes our members stronger and more profitable."
Azione also offers discount payroll, insurance and HR services through ADP; consumer financing with GE; credit card services and warranty programs with Warrantech; and search engine optimization through Netsertive.
"It is our job to make our member's lives easier. Our slate of services package fits that bill," Glikes said.
Latest posts by Alan Wolf
(see all)