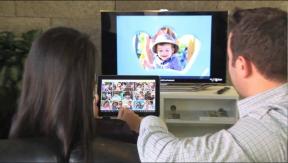 Las Vegas — Sakar International went to this week's CTIA convention with its first Bluetooth speakers under the Altec Lansing brand.
The company has begun rolling out seven AC/DC Bluetooth speakers priced from $59 to $299 but plans no iPod/iPhone-docking speakers under the Altec brand. "Docking is dead," said VP Stefan Betesh, citing the rise of Android smartphones and Apple's decision to change pin connections on new Apple mobile devices.
The company is also rolling out a trio of Altec Lansing stereo headphones.
All of the Bluetooth speakers feature speakerphone capability, voice confirmation of functions, and 3.5 aux in. All but two feature AptX decoding to improve upon the sound quality of Bluetooth's standard SBC codec. And all but two feature nearfield communication (NFC), enabling tap-to-pair functionality called "wireless check in" by the company. Two add the ability to charge USB-connected mobile devices even when the speaker's aren't plugged into AC.
In stepping up carrier-store distribution, Sakar announced a deal with Verizon Wireless to offer a $129 stereo Bluetooth speaker under the Altec brand on an exclusive basis through the carrier's 1,900 stores starting on Father's Day through the end of the year. The compact AC/DC speaker, called the Jacket, comes with two rubber pull-off jackets, one red and one black, with jackets in other colors available at $14.99 each.
The speaker features eight hours of battery life, two active drivers, and two passive radiators. It lacks AptX and NFC.
Sakar also offers accessories and other speakers under various brands to carrier stores.
Another Altec speaker is the $59 mono Orbit, a compact speaker that is weather-resistant. It also lacks AptX and NFC.
The $199 XL Jacket iMW645, which also comes standard with red and black jackets, features 2×2.5-watt amplification, 12-hour battery life and 3D Sound button to widen imaging. It features AptX, NFC and ability to charge mobile devices.
Also at $199, the iMW555 InMotion is a three-sized speaker with two active speakers and two passive radiators on each of two sides, each side delivering stereo. The speaker can be mounted in horizontal or vertical orientation on a wall. It features AptX and NFC.
At the top of the line, the $299 iMW655 is a two-way three-sided speaker, with woofer and tweeter on one side and two passive radiators on the other. It can be placed in horizontal or vertical orientation on a table but does not mount to the wall. It also features AptX, NFC and device charging.
In headphones, the company plans August availability of three wired models, one with active noise-canceling technology. The noise-canceling model is priced at $199. The other two models are priced at $149. All three feature matte finish, zinc-alloy accents, and soft-pad ear cups. Of the two models without noise cancellation, one is targeted to females. It features a thin padded headband that's less likely to mess up hair, according to the company.
The company is a licensee of the brand name, which was purchased in late 2012 by New York City-based Infinity Lifestyle Brands after Altec Lansing folded.