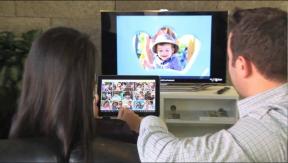 New York — Cable and satellite TV program bundling will eventually end, whether Aereo succeeds or fails in the marketplace.
That was one of several comments made by Chet Kanojia, founder and CEO of Aereo, in his one-on-one discussion with Gary Shapiro, president and CEO of the Consumer Electronics Association (CEA) at the CEA Line Show, here, on Wednesday morning.
Aereo provides a technology that tunes local over-the-air broadcasts and stores them on a computer before rebroadcasting them to consumers in the same marketplace, without paying broadcasters for content.
Shapiro said at the beginning of the session that new technologies are "disruptive" and that Aereo is the most recent example. He noted that new technologies always "take share from old technologies and old business models," and what the established entities do is go to the courts "or go to Congress to block the innovator." This is what broadcasters have done in the case of Aereo, which has won rulings in the U.S. Second Circuit Court, here, but appeals are pending.
Kanojia, who emigrated from India in 1991 and ran two companies (one was sold to Microsoft) that involved cable TV research, maintained that TV "had to migrate to the Internet. Other than cable TV employees … no one likes their incumbent cable [or satellite] provider. Bandwidth is everywhere and increasing … [and online] provides opportunities to create and get programming to consumers."
He noted that online is "the future is where you will buy or sell content. The cost of content production … is low and creators can sell to consumers. The artificial packaging [of cable TV bundles] has to go away."
It was Kanojia's contention that "ultimately cable can't continue to bundle and increase prices 8 percent compounded per year to provide HD broadcasts and record for over $100 a month."
Shapiro mentioned the cable and satellite industries' argument that without bundling, sports and minorities' programming wouldn't survive, to which Kanojia disputed, saying that consumers may purchase apps or go to online services such as Hulu to get that type of programming.
Kanojia explained that much of the programming watched on cable and satellite stations is from over-the-air broadcasters. For those consumers in New York or Boston, where Aereo currently serves, who can't get a signal via a traditional antenna, "our service costs $8 a month," he noted, "unless you are a diehard sports fan."
Kanojia said if you can't get a free signal via over-the-air antennas, "your only alternative is spending $100 a month for cable or satellite service. With Aereo, you get 30 channels for $8 a month, and you can go to Roku or Hulu for other Internet-connected devices for a small fee."
The key to initial growth for the foreseeable future is going to more cities. Aereo just launched in Boston, will go to Atlanta shortly, and is committed to 22 cities this year — 19 by August.
Kanojia would not say how many subscribers the company has in New York except to say it is "over 10,000."
He expects appeals to Aereo's court victories and maintained, "Aereo provides consumers with more choices. We built the company for consumers. They can reduce their bills and have more choices. Cable [and satellite] TV providers are driven by profits and not consumer need."
When asked by Shapiro if he doesn't care about profits, Kanojia said, "We care about consumers first, then profits. We want to optimize [the service] first for the consumer and then the profits will come. We don't care about profits right now."
The subject of Aereo getting involved in content production came up, and Kanojia said Aereo would stick to the technology side. He noted that the business is now split between live TV, what it provides now, and "libraries … such as HBO and others, which consumers will seek out on the Internet."
A member of the audience, who identified himself as a Hearst executive, commented that ABC has an app and other broadcasters could provide apps — or stations that are "part of bundles" could do the same thing — and could put Aereo out of business.
Kanojia said that could be true, but it would "provide consumers with more choices."
Latest posts by Steve Smith
(see all)