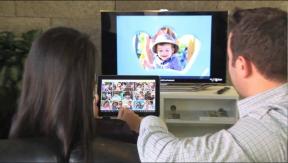 Washington – More than one-third (36.1 percent) of consumers would like to receive a CE gift for the holidays, a new report shows.
CE ranked third behind gift cards (59.4 percent), the top choice for the seventh consecutive year, and clothing and accessories (51.2 percent).
But the survey, conducted by Prosper Insights & Analytics for the National Retail Federation (NRF), also showed that consumers are cutting back their holiday spending from last year, with projected seasonal expenditures down 2 percent to an average of $737.95 per shopper.
"We expect consumers to set a modest budget for gifts and other holiday related purchases as they wait and see what will become of the U.S. economy in the coming months," said NRF president/CEO Matthew Shay.
The findings jibe with the pre-holiday observations of eBay, which were shared during a third-quarter earnings call. "In a relatively short period of time we have seen a pretty rapid deceleration in the market," chief financial officer Bob Swan told investors yesterday. "I hope I'm too conservative, but right now the signs point to a bit of caution."
Among the NRF survey's other findings, more than half of respondents said they plan to shop online, where about 40 percent of their holiday purchases will be made, and 30 percent will shop at CE specialty stores.
But price and promotions are still top-of-mind when it comes to decisions like where to shop. According to the survey, 35.6 percent said sales and discounts are the most important factors in deciding where to shop, although only 3.4 percent rate free shipping or shipping promotions as the most important factor, up from 2.9 percent last year.
Of those who own a smartphone, 54 percent will use their device to look up store hours, compare prices and purchase products, while 63 percent of tablet owners will use their device to shop, compare prices and look up product information.
And when those who holiday shop before November were asked why they start early, 60.3 percent said to spread out their gift shopping budget; 46.5 percent said to avoid the late season crowds; 44.2 percent do so to avoid the stress of last-minute shopping; and 42 percent said the prices and promotions are too good to pass up.
Latest posts by Alan Wolf
(see all)