CES Asia is filling a need for "a new type of trade show specially designed for the Asian market," CTA president/CEO Gary Shapiro said during a keynote speech kicking off the second annual event in Shanghai, China.
No event other than the Las Vegas CES pulls together representatives across multiple industries – including the automotive and entertainment industries – so that executives can learn how developments in other industries will affect their businesses, he said.
"Executives come here to see future trends and establish business relationships" at a time when the technology industry is at "the beginning of a massive wave of innovation" brought on by advances in broadband and sensor technology, he added.
The innovations "will solve some of the most fundamental problems in society," Shapiro continued, pointing to 3D-printed limbs for the disabled, drones that deliver disaster relief to areas that can't be reached by land, and virtual-reality technology used in simulators for training surgeons.
CES Asia's timing is right because retail-level sales of consumer technology, including small and major appliuances, will hit $274 billion this year in China, up 3 percent, Shapiro said in citing GfK statistics.
Shapiro pointed to the show's growth to support his view that CES Asia is tapping into unmet demand. Exhibit space almost doubled to about 175,000 net square feet from last year's 103,000, and more than 30,000 people from 70 countries will attend, up from last year's 28,000, he said.
In addition, the exhibitor count grew to more than 374 from 23 countries compared to last year's 212 exhibitors, said CTA senior VP Karen Chupka.
Showgoers queue up to enter the Shanghai New International Exhibition Center for CEA Asia's 9 a.m. Wednesday opening.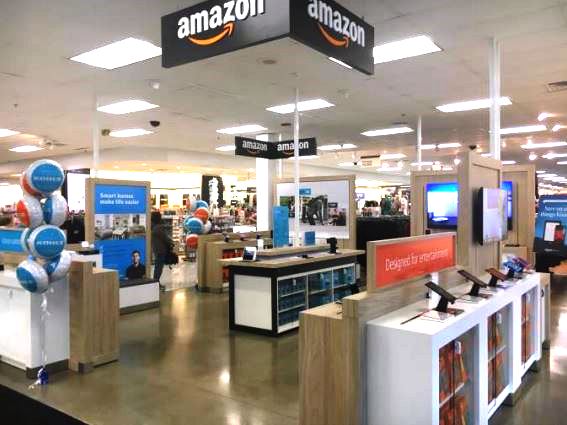 Chupka pointed out that most other technology shows in China focus on unfinished goods and components and that most finished-goods shows are vertical shows specializing in such sector as telecom or appliances. CES Asia, in contrast, is "broad-based," and it is unique in that it is the only show in China to bring together the consumer electronics, automotive, entertainment, telecom and other industries. The show is the only venue in China that "gives executives broad information," she said.
Who goes there? Most exhibitors are Chinese and foreign technology companies hoping to reach Chinese retailers, but retailers from outside China are also in attendance, as are a handful of large U.S. retailers, including Amazon, Home Depot, New Egg, Walmart, and Best Buy, Chupka said.
Chinese retailers also exhibit, with four of China's largest retailers – including the Alibaba and JD.com online stores—putting in an appearance to showcase new products by startup companies in which they have invested, she noted.
The show also attracts companies looking to establish technology partnerships so they can incorporate new technologies quickly into their products. For that reason, more companies this year have requested meeting space to negotiate relationships with potential future partners, Chupka said. They include LG and LG Display, which rented only meeting spaces.
Consumers will also attend, with the third day of the show open to consumers per the request of exhibitors who want direct contact with end users, Chupka said. More than 2,500 of last year's 28,000 attendees were consumers.
Another factor attracting exhibitors is the number of reporters who will turn out to publicize their brands to Chinese and other Asian consumers. A total of 1,300 members of the press, mostly from Chinese media, attended last year's show.
Emerging technology: Like last year, exhibitors are required to focus on emerging technologies and innovative lifestyle products. "It's easy to have a big show with a lot of accessories," Chupka said.
Emerging technologies making a strong appearance at the show include 3D printing, robotics, drones, virtual reality, augmented reality, the smart home, and IoT, said Shapiro during his keynote. VR's presence last year was limited, Chupka noted.
First-time exhibitors looking to tap into the show's potential include BMW, Huawei, Baidu, and Alibaba. Other exhibitors include Volvo, Mercedes Benz, BMW, Fossil Group, Gibson Brands, VOXX, Intel, IBM, Turtle Beach, 3M, OnStar, Monster, Cobra, Escort, Audio-Technica, Onkyo, and Twitter.
Twitter is among the companies participating in sessions to help Chinese suppliers grow their brands outside the Chinese mainland, Chupka said. Twitter's keynote last year focused on using Twitter to promote Chinese brands outside China, where Twitter is largely blocked.
In concert with the show's focus on emerging technology, CES Asia is getting a designated startup area for the first time, with 64 startups exhibiting from such countries as China, France, Hong Kong, Singapore, and the U.S. Many are from Shanghai, which the national government is promoting as an innovation hub, Chupka said.
For a number of years, CTA teamed up with the city of Tsingtao to promote a city-organized show, but Tsingtao dropped the event several years ago, Chupka said. It was difficult for people outside China to get to the city, so it was difficult to attract attendees from outside China, she said. Tsingtao is also viewed as more of a tourist city rather than a city to do business, she noted. Shanghai is an international city with a lot of flights coming in from other countries, a lot of English speakers, and world-class convention center, she said.
Latest posts by Joseph Palenchar
(see all)