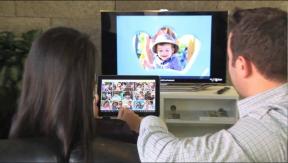 Sears stores are stocking consumer electronics again.
The retailer is re-embracing the category after low margins and the pursuit of smart home led to its abandonment more than three years ago.
At the time, the chain began shifting its traditional TV-centric assortment into a more holistic, connected-solutions approach under then category president Ryan Ciovacco.
See: Sears Switching To Connected CE Focus
While Sears remains sweet on smart home — Ciovacco now heads the company's Wally Labs sensors and services subsidiary — Dean Schwartz, president of hardlines for Sears Holdings, thinks it's time to re-enter mainstream tech, albeit more profitably.
See: Retailers Are Sold On Smart Home; The Trick Is Convincing Their Customers
Following what he described as "a substantial pullback" in CE that led to steep same-store sales declines, Schwartz began rebuilding Sears' electronics assortment last fall by leveraging two-step distribution and third-party sellers. (Kmart, he said, never really exited the category.)
"We're definitely getting back into the CE business, just in a different, more profitable way," he told TWICE.
To date, 175 of Sears' 570 stores now feature what Schwartz described as "a relatively wide selection" of TVs, headphones and accessories, and another 45 locations are expected to join the tech brigade by early May.
"It's a smaller assortment than Best Buy's," he said, "but it's larger than it was five months ago and is considerably expanded online, where there's a much broader range."
There, Sears has reentered the gaming business with console, headphone and accessories bundles, and is matching up Apple iMacs, MacBooks and Mac Minis with cases, headphones, cords and other accessories to create complete computer packages that sell for upwards of $3,600. Both categories are provided by distributors.
"We saw an opportunity," said Schwartz, who is considering additional Sears stores for CE conversion.
Related: Kenmore To Competitors: Beware 'The Mores'
Still, it's a long way from Sears' "Brand Central" days, when the chain went toe-to-toe with past CE leaders like Circuit City and Montgomery Ward, based on its wide assortment of tier-one tech.
Latest posts by Alan Wolf
(see all)