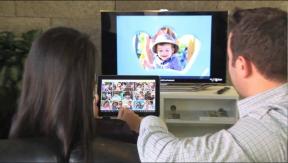 Fremont, Calif. — Video projector resource Optoma launched Monday its TW610STi+ 3D-ready HD DLP projector with remote command and control via Crestron RoomView technology.
The Optoma TW610STi+, which is available now at a $999 suggested retail, features PointBlank 3.0 interactive technology and delivers 3,200 ANSI lumens of brightness.
"The TW610STi+ meets important needs in both classrooms and meeting rooms," said Jon Grodem, Optoma product and marketing senior director. "By continuing to offer the most advanced interactive solutions available and improving the brightness level from previous models, Optoma is staying at the forefront in providing the ability to create large, vivid images from short distances while also helping to meet fixed budgets."
The TW610STi+ is said to create an interactive presentation environment without the expense of an interactive whiteboard. The WXGA resolution projector creates an 84-inch diagonal image from as close as 3 feet away from the screen.
The new PointBlank 3.0 package includes a new pen with a smaller, more ergonomic design that creates a more comfortable fit, especially for a child's hand.
The new pen also delivers greater accuracy and a faster response time, which combine to deliver smoother onscreen movement and better overall performance. It also has a new rechargeable battery design with a MicroUSB charging cable.
The TW610STi+ provides a full complement of I/O connections, including HDMI v1.3, two VGA-in, VGA-out, S-Video, composite video, RCA audio-in, stereo audio-in, stereo audio-out, microphone-in, MiniUSB for interactive pen output to computer, MiniUSB for display, USB for wireless dongle, RJ45, RS-232 and 12V trigger.
It is also compatible with most computer formats, including UXGA, WXGA, SXGA+, SXGA, XGA, SVGA, VGA resized, VESA, PC and Macintosh, and can also accept common global video inputs and video formats up to 1080p (HDTV, EDTV, SDTV, NTSC, PAL and SECAM).
The projector carries Optoma's three-year Optoma Express Service and one-year lamp warranty.
Latest posts by Greg Tarr
(see all)