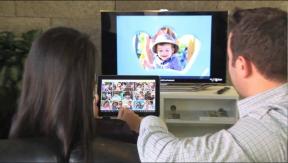 Los Angeles – Ultra High Definition, and how it will be developed and delivered to consumers, was discussed at a Consumer Electronics Association (CEA) Industry Forum panel by several stakeholders, here, on Monday.
The panel was moderated by Brian Markwalter, research and standards senior VP for CEA, and he was joined by Nick Colsey, business development VP of Sony Electronics; Henry Derovanessian, consumer premises hardware senior VP, DirecTV Engineering; Dan Schinasi, senior marketing manager, Samsung Electronics America; and Clyde Smith, senior VP of new technology, Fox Network Center.
Smith of Fox said on the programming side that the network has recorded 100 NFL, Major League Baseball and NASCAR events in Ultra HD that have not been shown on air, yet "Superzoom has been used on replays so far, and what you can't see in 2K replays you can see in [down-converted] 4K [replays], so consumers are seeing benefits [from the technology] already."
There are challenges remaining for Ultra HD in sports programming, Smith said, and more work will have to be done until it is ready for prime time.
Colsey said that Sony believes 4K is "equally important as the introduction of HDTV" and that consumers are already experiencing it because "if they go to the movies, it is usually 4K equipment. Consumers expect and are ready for … [4K's] attributes. They will be apparent."
Derovanessian of DirecTV emphasized the advantages satellite downloads of Ultra HD has over other systems. "Satellite is a fat pipe, and we can deliver the best picture quality in the industry. Sharpness and the clarity of picture is what consumers can relate to. What sells the consumer is content — favorite shows."
DirecTV can "leverage smart TVs and devices in the home" by delivering compressed content and "let the display do the decoding and present the best picture quality."
Fellow panel members Sony and Samsung can do that with standard HD, and Derovanessian said with TVs from those manufacturers, "we don't need a set-top box to deliver it for 2K, and we can deliver it the same way with 4K programming."
Colsey of Sony said that the five 4K models are being sold in 3,000 locations nationwide right now. "We have a 4K server in every store we offer our TVs" to demonstrate the format properly.
Smith, when questioned if Ultra HD can be appreciated only up close, noted, "You can sit back further and the programming can be quite compelling. The only problem is when the quality of the content is not truly 4K."
Or, as Schinasi of Samsung noted, if 4K content is not produced or uploaded properly, "it could look like 3D" without wearing the proper glasses.
Such are the challenges of the Ultra HD format as it begins its rollout.
Latest posts by Steve Smith
(see all)