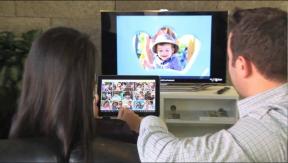 Girard, Ohio — Subwoofer supplier SVS launched its first full-range speaker, a pair of tower speakers in the Ultra series.
SVS sells online, direct to the end user and via select retailers. Pricing for the SVS Ultra Towers are $1,998/pair.
The 3.5-way tower feature a trapezoid-shaped cabinet whose non-parallel walls reduce standing waves inside the cabinet, effectively eliminating frequency-response colorations, the company said. The wedge-shaped front baffle and flush-mounted drivers are said to reduce edge diffraction and improve on-axis high-frequency response.
Two 8-inch woofers on the left and right side of each cabinet are horizontally opposed to eliminate cabinet vibrations, reduce distortion and provide cleaner, tighter bass response, the company said.
By firing into different directions in the room, the woofers reduce frequency response deviations throughout the listening space, ensuring more consistent, powerful and accurate bass performance no matter where listeners are seated, the company said.
The speakers also feature dual 6.5-inch midrange drivers in separate sealed enclosures to optimize performance and minimize negative interaction between drivers, the company said. The midranges are made of composite glass-fiber cones to deliver a stiffness/mass ratio said to improve sensitivity and maintain pistonic motion beyond the pass-band of the driver, the company said.
With the 3.5way crossover design, only the top midrange crosses over to the tweeter, while the bottom midrange is tapered to minimize the potential for off-axis lobing at the midrange-to-tweeter crossover frequency, SVS said. The result is a smoother in-room frequency response, enhanced power output and a larger sweet spot in the vertical axis.
SVS offers a risk-free 45-day in-home trial, with free shipping both ways whether purchased online or at retail.