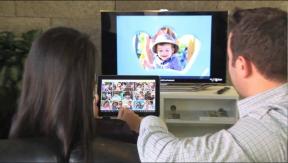 Orlando, Fla. — David Pidgeon, president/CEO of Starpower, in his role as president of Home Entertainment Source (HES), outlined new media strategies to follow in his keynote at the group's spring Summit, which opened at the Orlando World Center Resort here yesterday.
Pidgeon outlined the strength of HES, noting that the group goes "from Alaska to New Jersey" and that the organization knows its members have to "evolve your businesses during trying times."
He said, "The consumer has changed, marketing methods have changed and the Information Age is in full effect."
Pidgeon urged members to "reach out to a lot of smart, young people out there who can help you get involved in social media. Find people out there who can give your business a fresh image … and you get a fresh look" at your business.
He remarked, "We have to figure out ways [for consumers] to get into our stores, so we have to be on the web, make customer feedback a priority, keep company culture positive, and take risks."
One risk that Starpower took recently was buying a competitor in Texas, Ed Kellum & Son, which meant "we added appliances. When we ask you to take risks, we do it too."
Having a vital online presence is critical. For instance, Pidgeon noted, "84 percent of consumers spend time on the Internet before going to stores, and 38 million go to social-media sites, which is up 14 percent in the past six months."
He urged HES member to "get in the game — evolution never stops. You have to have online ads, get an e-commerce site launched, try digital billboards, and getting customer feedback is a priority. You've got to do it."
Pidgeon noted that in Starpower's case, "service is better than you think. We received 100 percent positive service feedback. But if you get negative feedback, address the problem and correct it. It is a lifeline. Customers are being mistreated all over the place, and you have to make a difference."
A positive company culture is also vital. Pidgeon urged HES members to "think about your employees. Talk to you your people, make yourself available, make an investment in continuing education, start a company newsletter. They look to you as the leader of the company. They are there and you want them there. You have to be positive, even when they make mistakes."
He told HES members that "getting involved in your community is your biggest marketing tool … the best investment you can make." Pidgeon mentioned Starpower's involvement with the American Diabetes Association, the Nancy Lieberman Foundation and other local charities, and added that retailers "don't have to give big items, but be involved and give when you can. They are your customers."
And he warned, "Are you looking to survive or overcome? You have to overcome, because if you are only looking to survive, you will not."
For HES members, "the silver lining" as Pidgeon called it, "is BrandSource [parent company of HES] and its ProSource merger [with Progressive Retailers Organziation]. Use Expert Warehouse and take advantage of the special warehouse buys."
He closed by saying: "You need to change with it. Never stop evolving. Tough times never last, but tough people do."
Latest posts by Steve Smith
(see all)