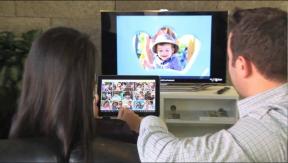 Reno, Nev. — Soundmatters has expanded its selection of high-end pocket-size portable Bluetooth speakers to five models with the shipment of its smallest model to date.
The $219-everyday Dash 7, a flat speaker that Soundmatters called a soundbar, delivers higher output, deeper bass and flatter frequency response than the other stereo Bluetooth speakers in the company's FoxL portable-speaker series, said marketing VP Lee Adams.
The Dash 7 is also 40 percent smaller than the model that used to be the company's smallest Bluetooth speaker. The new model measures 0.75 inches by7.5 inches by 2 inches and delivers output of about 90dB, he said.
The Dash 7 is an ideal soundbar complement for use with tablets because it lays flat in front of a tablet and fires up without blocking the tablet's display, said Adams. With driver quality equivalent to that of an audiophile-grade home hi-fi speaker, the Dash 7 delivers "amazing" omnidirectional sound even if firing up at the ceiling, he said.
For more critical listening, consumers use an included case that doubles as a stand to aim the speaker's two full-range drivers toward the listener.
The Foxl series of portable stereo speakers consists of one non-Bluetooth speaker and five Bluetooth speakers, which range from an everyday $199 to $229. All feature 3.5 mm input and subwoofer output for use with a $149-everyday palm-size 30-watt powered subwoofer for travelers and desktop use. It runs on AC power and delivers bass down to 30Hz.
All speakers also feature a lithium-ion battery that doubles as a passive bass radiator. The Bluetooth speakers also double as hands-free speakers.
With Bluetooth on, battery life ranges up to 10 hours at normal listening levels and 12 hours at low volume. When amplifying music through its 3.5mm aux in, the speakers deliver more than 20 hours of battery life at normal listening levels.
"There are few options for discerning listeners and discerning travelers who want to approximate their home systems," Adams said of the FoxL series. "To put it in a pocket, nothing else exists."
The new model is available in red, white and black.
It's available through select online retailers, including Amazon.com, Bestbuy.com, Crutchfield.com, ListenUp.com and OneCall.com. It's also available at Soundmatters.com.
The company, founded in 1998 as an R&D company by a/d/s founder Dr. Godehard Guenthe, ventured into its own branded products in 2003 with the launch of a single-chassis home-theater system, which could be placed on top of a TV or on shelf.
The company started making soundbars and portable speakers in 2008. A few years ago, Soundmatters began to offer only portable speakers to focus its retail-channel support and focus on an area "with more potential to leverage our unique technologies of reducing speaker size," Adams said. The company's core technology is developing wide-band, low-distortion speakers in very small enclosures with home hi-fi speaker quality, he said.
Latest posts by Joseph Palenchar
(see all)