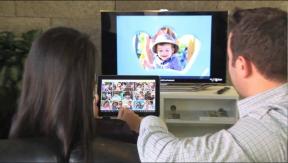 New York — SOL Republic unveiled the first fruits of its partnership with Motorola: the Deck portable Bluetooth speaker.
The speaker, which can be paired with up to five devices, features a Heist mode that allows users to "steal" control of the device. Scott Hix, president and co-founder of SOL Republic, said the device features 360-degree sound but declined to provide specific tech specs. It is powered by the company's R2 Sound Engines.
SOL Republic first entered into a partnership with Motorola about a year ago, Hix told TWICE, and the Deck was developed by the individual engineering groups of both companies. More joint products will follow in the next six to 12 months, he said. To accompany the launch of the flagship Moto X, SOL Republic also introduced a line of its Jax and Tracks headphones in colors complementing the smartphone.
Other details of the Deck speaker include onboard controls, 300-foot wireless range, nearfield communications (NFC) technology, built-in bass port, speakerphone functionality and a lithium-ion battery,
It also has line-in and line-out ports so users can connect the Deck to their home or car stereo system and use it as a receiver, Hix said. Multiple Decks can also be daisy-chained together.
An Outdoor mode is engineered to reduce bass levels and drive mids and highs.
Suggested retail is $199. It will be available this month through such retailers as Verizon Wireless, AT&T, Best Buy, Target and RadioShack. RadioShack intends to do a very aggressive launch plan and has trained employees to provide in-store demos, Hix said.
Four colors will be offered: Lemon Lime, Gunmetal, Vivid Red and Electro Blue.
Latest posts by Lisa Johnston
(see all)