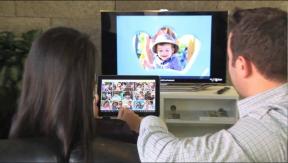 Austin, Texas — Projection screen manufacturer Screen Innovations (SI) launched Tuesday its newest screen technology called Pure Zero Edge.
The projection screen system is said to combine the look of a sleek flat panel with the versatility of a projection screen, and supports resolution levels as high as 8K and beyond, the company said.
SI is offering Pure Zero Edge products in Pure White and Pure Gray, both featuring the company's proprietary Micro Texture that is said to be nine times finer and smoother than the previous best screen material.
According to SI, Pure Zero Edge screens are designed to facilitate quick installs and support mounting options including on-wall, in-wall (recessed) or flown from the ceiling by slender cables.
New optional LED lighting is built in to the frame and now incorporates six custom preferences and 256,000 colors, including 6,500 Kelvin White.
The feature set enables a sleek appearance and immersive viewing experience, SI said.
Pure Zero Edge screens are available in large-format sizes up to 120 inches in 16:9 and up to 150 inches in 2:35.
The line includes Pure White 1.3 gain; Pure Gray 0.85 gain; Silver 2.7 gain; Black 1.4 gain or Black 0.8 gain screen materials. Prices start at a $1,599 suggested retail, based on configuration.
Like the company's Black Diamond Zero Edge, Pure Zero Edge supports LED backlighting that is said to make it easier for the human eye to watch bright content in a darkened room.
Backlighting reduces eyestrain and improves the cinematic experience while also complementing existing design and décor by adding warmth and ambiance. SI said its Zero Edge screens are the only ones on the market that can effectively support LED backlighting.
"This is because our frame design was created to allow LED lighting to be embedded into the aluminum extrusion, thereby delivering perfectly angled light onto the surrounding walls," the company said.
Latest posts by Greg Tarr
(see all)