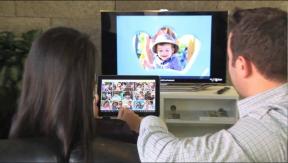 Las Vegas — Sharp said it will ship the industry's first Blu-ray/SACD player equipped with WiSA-compliant wireless technology in June at a suggested $4,999.
The deck transmits multichannel soundtracks to powered WiSA-compliant speakers, Sharp reported.
A companion WiSA-compliant VR-WR100U Wireless Bridge will be available in May at a suggested $999 to add to amps and speakers lacking WiSA technology.
Previously, Sharp announced general plans for first-half availability without mentioning specific months or setting a price.
The SD-WH1000U Blu-ray/SACD player not only transmits up to 7.1 channels of 24 bit/96kHz high-resolution uncompressed audio from Blu-ray, SACD and DVD discs, but it also wirelessly transmits audio content from a connected set-top box, streaming-media player, or game console via three HDMI inputs and two USB ports.
The player also wirelessly transmits 1080p FullHD video via wireless WiHD technology to a WiHD-equipped TV.
Sharp's devices are being demonstrated for custom integrators in Las Vegas during the Azione Unlimited Spring Conference running from March 19-21.
"One of the goals of Azione Unlimited is to be the launch vehicle for new brands and technologies, like the Sharp WiSA-compliant Universal Player," said Azione president Richard Glikes.
The Blu-ray player's terminals includes three HDMI terminals (including one MHL-compatible HDMI terminal), optical and coaxial digital inputs and outputs, and both balanced and unbalanced stereo outputs.
The product will be compatible with an array of automation standards including Crestron, AMX and Control4. It includes Ethernet and RS-232 connectivity.
WiSA technology is promoted as delivering interference-free, wired-quality wireless audio in the 5.2-5.8GHz U-NII band to stereo and home-theater speakers within a room up to 29.5 feet by 29.5 feet. WiSA technology delivers up to 7.1 channels of 24-bit/96kHz uncompressed audio.
The technology is promoted as eliminating cable clutter, enabling more flexible placement of speakers by eliminating speaker-cable runs, and overcoming the sound quality, interference, latency and cost challenges associated with other wireless technologies designed for multichannel home theaters, WiSA has said.
Bang & Olufsen is the only other company currently offering WiSA-certified products, including active wireless speakers, TVs with embedded WiSA, and an outboard WiSA-certified transmitter to add to its surround-decoding TVs.