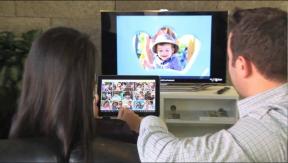 Milpitas, Calif. — SanDisk is shipping a 128GB microSD card, calling it the highest capacity removable storage option available in the consumer market.
Designed specifically for use with Android smartphones and tablets, the 128GB SanDisk Ultra microSDXC UHS-I memory card's release coincides with the launch of Samsung's new flagship Galaxy S5 smartphone which comes with a 128GB capacity microSD slot.
SanDisk said it delivers twice the read/write speed of currently available microSD memory cards making it the best solution available for shooting HD video.
A new version of the SanDisk Memory Zone app, currently available from the Google Play store in beta, allows users to view, access and back up all files from their phone's memory.
As a part of the app, SanDisk is releasing OptiMem, a new feature that allows Android users to enhance their phone's internal memory by automatically transferring some of their old photos and videos to the microSD card. OptiMem will continuously monitor the user's mobile device memory levels, and inform them whenever the internal memory falls below a pre-defined threshold.
The 128GB memory card is available exclusively from Amazon.com.