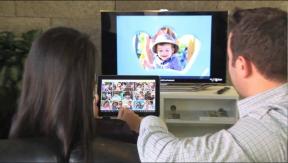 Green Bay, Wisc. – Séura Thursday launched a spring discount promotion across its Storm line of outdoor TVs.
The promotion, which ends April 30, is offering discounts of $600 to $1,000 off manufacturer's suggested retail prices on the company's Storm line of weatherproof TVs.
Séura Storm models are offered in 42-, 47-, and 55-inch screen sizes, in a choice of matte black or premium white finishes.
Specifically, the offer cuts $600 off of the 42-inch Storm LCD TV models to $4,399 (black version) and $5,800 (white version); $800 off 47-inch Storm LCD TV model to $5,699 (black) and $7,199 (white); and $1,000 off the 55-inch Storm LCD TV model to $7,499 and $8,999 (white).
Séura said the promotion benefits both the consumer and the dealer because reseller pricing is based on the discounted manufacturer's suggested list prices.
"Homeowners are planning and buying for their outdoor spaces now," states Séura CEO Gretchen Gilbertson, "This is the time to talk to customers about outdoor A/V. This promotion will help open the door for new customers and those on the fence about an outdoor TV."
The Storm Outdoor TV line is said to bring high-performance indoor entertainment to outdoor applications.
Some suggested placements include: outdoor kitchens, above fireplaces, near pools and hot tubs.
Sets include weatherproof input adapters, a large media compartment, and IR or RS-232 control.
Outdoor accessories include full motion articulating wall mounts, tilting wall mounts, and new heavy-duty dust covers.
Latest posts by Greg Tarr
(see all)