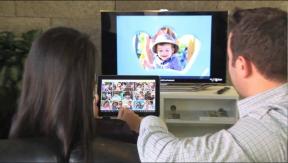 Boulder, Colo. — PS Audio developed what it called a first-of-its-kind phono preamp/digital converter.
The $1,895-suggested NuWave Phono Converter can be used as a traditional analog phono preamplifier, as a stand-alone analog-to-digital converter (ADC) via an auxiliary analog input, or as a phono preamp that digitizes a turntable's analog output.
The component converts a turntable's analog output to digital for transfer over digital coaxial or digital I2S outputs to an outboard digital-to-analog converter (DAC) or other hi-fi component for playback. A vinyl record's content can also be transferred via USB to a computer for archiving, said PS Audio CEO Paul McGowan.
Unlike other phono-preamp/converters on the market, the NuWave converts a turntable's analog output to PCM or DSD (SACD-format) files, not just to PCM files, for playback or transfer to a computer, McGowan said.
Also unlike other converters, the NuWave is the first to amplify a turntable's output and apply the RIAA equalization curve while the audio signal is still in the analog domain, enabling it to "faithfully reproduce the turntable's analog output," McGowan said. The component is "100 percent analog through its phono chain," the company said. "Once the playback and EQ requirements of the vinyl path have been properly amplified, it is then a relatively straightforward process to quantize the output through a state-of-the-art analog-to-digital converter [ADC]."
Also unlike other phono-preamp/converters, the device simultaneously produces both a balanced analog-audio output and a digital output. The analog output enables owners of all-analog hi-fi systems to rip a vinyl record while listening to the content through their home hi-fi system, McGowan said. With any other unit [converter], you'd be forced to listen to the album playing through a computer monitor as you ripped it if it [the converter] only had a digital output," he explained. "Being able to listen to the album through a preamp while you're doing this is a big plus for many vinyl collectors and archivists."
Although all other preamp/converters have an analog output, "that analog out is from a cheap D/A built in as a convenience," McGowan said. "All of the other devices out there are all digital-based, and they include an internal DAC to allow monitoring, which frankly isn't much better than listening to the computer speakers as monitors."
The NuWave Phono Converter, he said, "is the only one [phone converter] focused on a high-performance analog and digital chain, something any archivist or audiophile cannot find anywhere else."
Using off-the-shelf ripping software on a PC, consumers can copy their vinyl albums and store them on computers as digital PCM files with resolutions up to 192/24 PCM or as 2.8MHz-sampling-rate DSD and double-DSD (5.6HMz) files. The digital signals are sent over the S/PDIF digital coaxial output, I2S digital output, and USB output.
DSD files can be sent over the digital outputs because the files are sent using DoP (DSD Over PCM) protocols, the company said. "DoP does not alter the DSD data," the company said. "Instead it cuts it up into acceptable packets that look like PCM but are not. The pure DSD stream is maintained perfectly for future playback," the company said.
By using DoP to send DSD files via USB to PCs, the company noted, off-the-shelf ripping software on PCs will be able to handle the DSD files, which are treated as if they were standard digital audio WAV files.
The device's analog outputs consist of a stereo line out and a balanced analog output.
The NuWave works with a wide range of phono cartridges from a high-output moving-magnet or ceramic cartridge with up to 220mv output to a low-output moving-coil cartridge with an output as low as 0.3mv out. The output can be selected from the front panel in 3dB increments. Options for full resistive cartridges are available on the back panel.
Front-panel controls let users select PCM or DSD conversion.