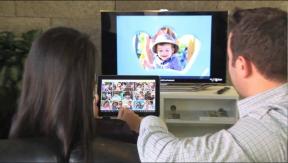 Atlanta – P&F USA, which manages the Philips brand for TV and video products in the United States, unveiled Thursday a line of Philips high-definition DVRs targeted at the growing ranks of TV cord-cutters.
Philips models HDR5710 ($250 suggested retail) and HDR5750 ($300 suggested retail) are capable of recording FullHD 1080p over-the-air broadcast television recording without tying consumers to a contract or subscription, the company said. Both units will ship in November for holiday sales.
P&F USA said it is positioning both HDRs as "cord-cutting" solutions, allowing consumers to watch and store content from sources other than traditional pay-TV providers, like cable, telco and satellite TV operators.
Unlike DVRs from TiVo and multichannel video service providers, the Philips HDRs do not have an onboard program guide. Programs are set to record by time and channel, like VCRs, although users are able to set it to record a program repeatedly, similar to a pass, the company said.
Both HDRs feature built-in Wi-Fi with connected apps for such on-demand Internet streaming and download services as Netflix, CinemaNow, YouTube and Vudu.
"Consumers want to watch television on their schedule, and Philips HDR products give them the freedom to do just that," said Keith Michael, P&F USA senior marketing director. "Research shows more and more consumers are cutting the cord from cable or satellite and opting for basic channel programs, especially since the number of free over-the-air channels has increased significantly. Unlike traditional HDR devices, Philips HDRs allow customers to record over the air content free without needing a subscription."
The Philips HDR5710 and HDR5750 have a built-in ATSC tuner and can store up to 50 hours of HDTV programs on the 500GB HDR5710 and up to 100 hours on the 1TB HDR5750.
Each unit features wireless connectivity and HDMI input. Consumers can increase storage by using an external hard drive that connects via USB to the console.
The remote for each unit features dedicated buttons for both Netflix and Vudu, and units include Dolby TrueHD 7.1 surround-sound support.
Latest posts by Greg Tarr
(see all)