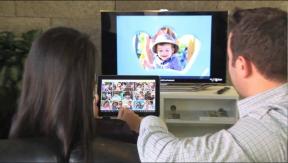 San Francisco – Parasound plans September shipments of a new stereo preamplifier that adds multiple features over its predecessor.
The $950 Parasound Halo P 5 2.1-channel preamp replaces the 10-year-old P 3 and adds DAC with coaxial, optical, and USB inputs. It also adds subwoofer outputs, home theater bypass, moving-coil capabilities to the phono stage, and a motorized volume control. The subwoofer output features analog bass management.
The P 5 will be available in black and silver.
The DAC's coaxial and optical inputs accept audio at sampling rates up to 192kHz rates, and the USB input accepts up to 96kHz. Other inputs include one pair of balanced XLR, phono, five RCA line-level stereo inputs, and a front-panel 3.5mm mini jack. Line outputs are balanced XLR and unbalanced RCA, plus balanced and unbalanced subwoofer outputs.
The phono input is compatible with all moving-magnet cartridges and almost all moving-coil cartridges, the company said. A 100 ohm/47k ohm switch selects the appropriate load and impedance.
The front panel has a headphone jack and controls for source selection, level, bass, treble, tone defeat, balance, and subwoofer level. The 3.5mm auxiliary input with 12-dB gain stage compensates for typically low output of portable devices.
Parasound president Richard Schram said the new features reflect how "new technologies have changed the ways audiophiles connect to and enjoy their music." He pointed to the inclusion of a DAC with USB input as well as to the upgrading of the moving-magnet-only phono stage to handle moving-coil cartridges, promoted by what he said was a turntable resurgence.
Latest posts by Joseph Palenchar
(see all)