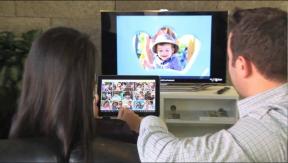 Binghamton, N.Y. – McIntosh Laboratory has begun shipping its first AirPlay-equipped tabletop speaker, the $3,000 McAire.
At that price, the single-chassis stereo speaker system joins a growing selection of very-high-end single-chassis AirPlay speakers, including Bang & Olufsen's recently unveiled $2,699 BeoPlay A9, a disc-shaped floor-standing model that can also be hung on a wall.
McIntosh calls the product an integrated audio system, but whatever it's called, it features McIntosh's component-audio cosmetics with black-glass front panel with blue output meters. In fact, it's component-size, measuring 8-inches by 19.4-inches by 17-inches and weighing 31 pounds. Into that chassis, McAire packs a three-way speaker system and embedded Wi-Fi. The product doesn't include tuner or CD player.
With embedded Wi-Fi 802.11 b/g and AirPlay, the speaker streams music wirelessly from Apple's mobile devices and from a networked PC's iTunes application over a home's Wi-Fi network. The speaker also features Apple-certified USB port with 1-amp charging to charge, and stream music from, connected iPods and iPhones. The USB port also connects to USB mass-storage devices, including Android devices, to play back their music.
In addition, the port connects to iPads to play back an iPad's song selection, although the port isn't Apple-certified for quick iPad charging.
The system features two 4-inch woofers, two 2-inch inverted-dome midranges, and two 0.75-inch dome tweeters. Power output was not disclosed.
Though McAire is McIntosh's first AirPlay speaker, it is the company's second AirPlay product. The company also markets the AirPlay-equipped MX121 home theater processor, which costs $6,000.
The speaker is available through authorized McIntosh dealers, including Magnolia.
McIntosh was recently purchased by Fine Sounds from D+M Group.