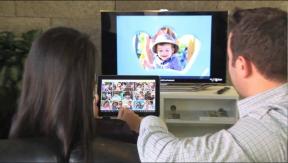 New York – Lenovo introduced new Android-based tablets at IFA 2012 in Berlin.
The Android tablets are the IdeaTab S2110, A2107 and A2109. The S2110 and A2109 are now shipping with starting prices of $399 and $299, respectively. The A2107 will ship later this year, pricing has not been set.
The S2110, based on the company's S2 tablet shown at CES 2012, has a 10.1-inch In-Plane Switching (IPS) screen with a 178-degree viewing angle and 10-finger touch capability. It is powered by a Qualcomm 1.5GHz 8060A dual-core processor, has 32GB of storage, 1GB of memory and weighs 1.3 pounds. There is a 5-megapixel rear facing camera and 1.3-megapixel front facing camera.
The tablet comes with keyboard/docking station which contains additional battery capacity, effectively doubling the S2110's battery life to 20 hours. The dock contains two USB ports and an SD card reader.
The A2109 is a 9-inch model designed for content consumption. It has an Nvidia Tegra 3 processor, 26GB of storage (expandable via a micro SD slot) and a micro HDMI port.
The four-point capacitive touch 16-by-10 aspect ratio display has a 1,280 by 800 resolution and 1,080p output via the HDMI port. There are 1.3-megapixel front and 3-megapixel rear facing cameras and GPS capability.
The A2107 is a 7-inch tablet that will come in two SKUs, one Wi-Fi and the other 3G cellular. It has the same basic specs as the A2109, but with a 720p display. Also included is an FM tuner with a built-in antenna.
Latest posts by Doug Olenick
(see all)