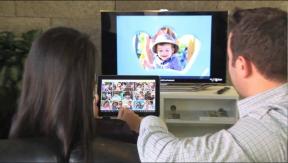 Orange, Conn. — Krell Industries plans shipments next week of a pair of high-end stereo preamplifiers designed to match the performance levels of select high-power Class A amplifiers shipped last week with iBias technology.
The new preamps are the $15,000 Illusion with separate power supply and the $7,000 Illusion II with digital inputs. The preamps match the cosmetics of the company's seven iBias amps, which range in price up to around $10,000. iBias technology improves Class A efficiency and reduces Class A amplifier size to suit changing consumer tastes.
The Illusion preamp features a proprietary Current Audio Signal Transfer (CAST) connection to the iBias amplifiers to transfer audio signals in the current domain. CAST eliminates cable-induced signal loss and degradation, reduces noise and increases bandwidth. A complete Krell system consisting of source, preamp, and amplifier connected via CAST interconnects reduces the number of voltage-gain stages to one, delivering a noise floor that "approaches the theoretical limit of technology," the company said.
President Bill McKiegan said the $7,000 Illusion II is the perfect mate for the $9,500 2×300-watt Duo 300 amplifier or the $7,500 2×175-watt Duo 175 amplifier, and the $15,000 Illusion is perfect for use with the 375-watt monoblock Solo 375 and 575-watt monoblock Solo 575 at $17,500/pair and $22,500/pair, respectively.
The $15,000 Illusion preamplifier features a dual-monaural circuit design in which the left and right channels get their own individual full chassis-sized boards and their own dedicated power supply. The Illusion also separates the power supply from the audio circuitry as in the company's flagship preamplifiers.
The Illusion offers an optional crossover for use with a subwoofer/satellite speaker system, bypassing the need to use a powered subwoofer's lower quality crossover circuitry, the company said. With the optional crossover board, users can independently assign crossover frequencies and filter types for the high- and low-pass sections. Choices include 40Hz, 55Hz, 75Hz and 100Hz crossover points with 12dB, 24dB and 48dB Butterworth or 24dB Linkwitz-Riley filters.
The $7,000 Illusion II features five digital inputs to complement balanced- and single-ended analog inputs. The digital inputs are AES/EBU, coaxial and optical for use with streaming devices or other digital sources. The digital inputs support up to 24-bit/192kHz PCM. The component also features oversize power supply.
Latest posts by Joseph Palenchar
(see all)