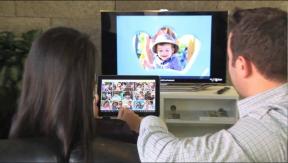 New York – Klipsch Group unveiled its first Klipsch-brand active soundbar and an upgraded Klipsch-brand Quintet home theater speaker package.
The company claimed the soundbar is the industry's first active soundbar with horn-loaded tweeters.
The products follow recent launches of the Klipsch-brand $599-suggested HD Theater 600, which is a 5.1 home-theater speaker package, and the first two powered subwoofers in the Energy brand's affordable Energy Power series of speakers. The subs are priced at a suggested $199 and $299.
The Klipsch-brand active soundbar and Quintet were unveiled today (Thursday) at Irving Plaza Powered by Klipsch, the Live Nation-managed music venue. Last year, Klipsch entered into a promotional alliance with Live Nation Entertainment in which Klipsch was granted naming rights to multiple music venues.
The active soundbar on display was the $799-suggested HD Theater SB 3, available in stores and Klipsch's website in September. It follows the introduction last year of the Klipsch Group's first two active soundbars, which carry the Energy brand name.
The 3-inch-deep SB 3 features satin-black finish, wireless 10-inch subwoofer, and horn-loaded tweeters, which are used in the company's component speakers to widen the stereo sweet spot, deliver high efficiency and reduce distortion. In the soundbar, the horn-loaded tweeters also serve to improve dialog clarity, the company said.
"For the first time, we are taking strategic steps to apply our same sound ideals to this increasingly popular speaker category," said Mark Casavant, global product development senior VP for Klipsch. "Because of its horn-loaded technology, the HD Theater SB 3 is capable of focusing more sound for listeners and perfecting the very purpose of soundbars — dialog clarity that's so often lacking in today's television speakers," he said.
The soundbar features digital toslink optical input, analog stereo input, and Dolby Digital decoder. Via the digital input, the soundbar takes a Dolby Digital stream from a Blu-ray player, cable or satellite set-top box, or game console. A 3D Surround Mode simulates surround sound.
A 3.5mm input connects to portable music players.
The 10-inch wireless subwoofer, housed in an MDF cabinet, pairs automatically with the soundbar.
The HD Theater SB 3 can be placed on a credenza or mounted to a wall.
In launching the fifth-generation version of its compact Quintet 5.1 speaker package at a suggested $549, Klipsch said it improved the materials and components used to improve sound quality while reducing speaker size.
The Quintent features a new 90-degree by 90-degree Tractrix horn combined with a lightweight aluminum tweeter to expand the stereo sweet spot and deliver low distortion with high transient response, the company said. New long-throw injection-molded graphite (IMG) woofers boost bass output.
Also to improve sound and build quality, the company used dense, rigid and acoustically inert AcoustaComp material for the speaker cabinets, which feature non-parallel walls to reduce internal standing waves.
The speakers, available in a satin and brushed black finish, will be in stores in September and on Klipsch's website.
Latest posts by Multichannel Staff
(see all)