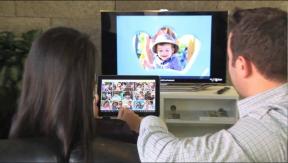 Denver — KEF officially added its name to the short list of audio companies offering THX-certified architectural speakers.
The lineup consists of two THX Ultra2 in-wall LCRs due in January, an Ultra2 round in-ceiling speaker due in December, and an in-wall subwoofer due in January. Two subs used together will qualify for Select2 status, and four will deliver Ultra2 performance, said Ci product development manager David Kroll.
The two three-way LCRs are unusual in their use of an aluminum front baffle and perforated-metal bezel-less grilles. Optional black and white fabric grilles leave a quarter-inch of aluminum exposed around the baffles' perimeter as an aesthetic option.
One of the LCRs, the Ci5160RL-THX, retails for $3,000 each, and the smaller Ci3160RL-THX retails for $1,700 each. The $3,000 model packs four 6.5-inch woofers and a 6.5-inch midrange with a concentrically mounted tweeter based on KEF's UniQ design. The speaker's required cutout is 41.3 by 8.2 inches.
The lower-priced LCR packs two 6.5-inch woofers and a 6.5-inch midrange with concentrically mounted tweeter. The required cutout is 26 by 8.2 inches.
The round in-ceiling speaker is the two-way $800-each Ci1200RR-THX with 8-inch woofer and concentrically mounted 1.5-inch dome tweeter. The speaker features a narrow-bezel grille.
The in-wall subwoofer is the Ci3160RLb-THX with three vertically arrayed 6.5-inch woofers on an aluminum baffle. The $1,000-each sub is matched to a $1,000-each 2×250-watt KASA500 amp that can drive two subs simultaneously. The rack-mountable Class D amp, due in January along with the sub, incorporates DSP for active equalization.
Currently, at least two other companies — Klipsch and Atlantic Technology — offer THX-certified architectural speakers. Other companies also offered them in the past but eventually phased them out.
With the planned launch, KEF will be offering THX-certified speakers for the first time in years. Its previous certified models were in-room speakers.
In other Ci-speaker launches, KEF unveiled two other in-wall speakers, neither with THX certification. They ship in January.
The $500-each 2.5-way Ci4100QL is the company's narrowest in-wall LCR to date, requiring a cutout of 18.8 by 4.6 inches to make room for four 4-inch woofers, one with concentrically mounted tweeter. The Ci4100QLb subwoofer matches the height and width of the LCR and packs four 4-inch woofers. It can be driven by the KASA500 subwoofer amp.
Latest posts by Joseph Palenchar
(see all)