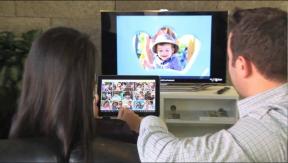 Indianapolis – JVC introduced today at CEDIA Expo to unveil an expanded line of home theater projectors based on an improved "e-shift" 4K upscaling technology for 2D material.
The new and improved upscaling system that is now called e-shift2 is available in seven JVC projector models for the 2013 model year.
Other enhancements found in various models in the line include a new illumination system and a new polarizing wire grid technology that works in combination with e-shift2 to produce higher native contrast levels.
JVC's 2013 projectors will begin shipping in November and include in the Procision Series (marketed by the consumer products division) the following: DLA-X95R ($11,999 suggested retail), DLA-X75R ($7,999), DLA-X55R ($4,999) and DLA-X35 ($3,499).
Models in the professional products dvision Reference Series include: the DLA-RS66 ($11,999), DLA-RS56 $7,999), DLA-RS4810 ($5,095), DLA-RS48 ($4,999) and DLA-RS46 ($3,499).
All models are 3D-enabled and all except for the base models in each series offer e-shift2, JVC said.
JVC introduced the e-shift system for the first time in four models at last year's CEDIA Expo, helping to set an new trend toward projectors capable of outputting 4K level video resolution.
E-shift upconverts and scales 2D HD content to a 4K signal (3,840-by-2,160 pixels) and displays it at full 4K precision.
The system is said to produce more than twice the horizontal and vertical resolution of FullHD (1920-by-1080) images, and four times the number of total pixels (more than 8 megapixels).
The system is said to dramatically decrease picture artifacts in images blown up on larger screen sizes. The new upgraded e-shift2 technology, available in seven models, also provides higher native contrast in combination with a new polarizing wire grid engine, JVC said.
Other enhancements in the line include new 2K-to-4K scaling technology using proprietary JVC algorithms that replaces a two-band filter with an eight-band filter to apply more correction to more areas of the image.
This is said to deliver a noticeable improvement with any compatible 2D signal.
Five preset modes plus off are included in the Multiple Pixel Control to optimize performance for different content.
JVC said 3D performance has been improved in the projectors using new circuitry and a new optical engine that reduces cross talk.
A new illumination system, including a new lamp and power supply, is said to deliver "a significant improvement in brightness over the life of the lamp," and the lamp warranty has been extended to one year or 1,000 hours.
For 2013, native contrast has been improved in most models using the polarizing wire grid technology, which optimizes every frame consistently to reproduce peak whites and deep blacks, JVC said.
The flagship DLA-X95R and DLA-RS66 models offer a 130,000:1 native contrast ratio. The DLA-X75R and DLA-RS56 offer 90,000:1 native contrast, and the DLA-X55R, DLA-X35, DLA-RS4810, DLA-RS48 and DLA-RS46 offer 50,000:1 native contrast.
Other enhancements in the line include:
• New active shutter glasses for 3D viewing using RF rather than IR technology to better stablize synchronization and extended range;
• A smartphone remote control app for tablets and smartphones;
• Additional lens memory settings to store custom focus, zoom and horiztonal/vertical lens shift settings – 10 for the DLA-X75R, DLA-X95R, DLA-RS56 and DLA-RS66 and five for the DLA-X35, DLA-X55R, DLA-RS46, DLA-RS48 and RS4810. JVC said this allows a constant height display of 4:3, 16:9 , 2.35:1 or any other scope content without an additional anamorphic lens;
• Pincushion adjustment that corrects the image when using a curved screen;
• New Eco mode in standby that reduces power consumption.
The flagship DLA-X95R and DLA-RS66 output 1,200 lumens of brightness and a 130,000:1 native contrast ratio. For 3D viewing, both models come with two pairs of PK-AG3 RF 3D glasses and a PK-EM2 3D Signal Emitter. Both projectors also have a three-year warranty.
The DLA-X75R and DLA-RS56 provide 1,200 lumens and a native contrast of 90,000:1.
The DLA-X95R, DLA-X75R, DLA-RS66 and DLA-RS56 are scheduled for THX 3D Certification testing.
The DLA-X55R, DLA-RS48 and DLA-RS4810 bring e-shift2 to a new price point and feature JVC's Color Management System, five lens memory presets, 1300 lumens brightness and a native contrast ratio of 50,000:1. The DLA-RS4810 adds a three year warranty.
The DLA-X35 and DLA-RS46 are 3D-enabled projectors with 1,300 lumens brightness and a 50,000:1 contrast ratio. The DLA-X35 is available with a black or white cabinet.
Latest posts by Greg Tarr
(see all)