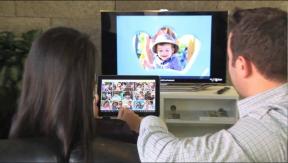 San Diego – Iomega has added two new members to its StorCenter network-attached storage (NAS) drive line aimed at advanced users and small- to medium-sized businesses.
The Iomega StorCenter px2-300d is an Intel Atom-powered double-bay desktop network storage device with up to 6TB of storage; and the new StorCenter ix4-300d Network Storage is a four-drive device with up to 12TB of storage.
Both new drives utilize EMC's LifeLine operating system for cross-platform file-sharing with integration of security and convenience features such as RAID data protection, virtualized environment support, multiple cloud options for offsite data storage, Active Directory integration and advanced media sharing features including Iomega's Personal Cloud service.
Both ship with the Iomega's latest LifeLine release 3.4, which improves Active Directory Support over previous versions, has a more efficient EXT4 file system, adds MySQL Server support, and adds video surveillance capabilities, the company said.
The px2-300d is available utilizing 1TB, 2TB and 3TB enterprise-grade 7,200 rpm hard drives and the ix4-300d is available in 1TB, 2TB and 3TB SATA II drives. Both also offer diskless models allowing users to insert their own HDDs for up to 6TB and 12TB of storage, respectively.
Iomega said it is currently qualifying 4TB drives for future models in both lines.
The px2-300d is hot-swappable and includes McAfee VirusScan Enterprise which allows automatic antivirus scanning and cleaning.
Both models integrate SecureMind Surveillance Manager video management software, which delivers multi-channel live monitoring, video recording and fast video playback with multiple attached IP cameras (sold separately). Each model includes one free camera license.
Built-in cloud technologies include EMC Atmos cloud connector, EMC Avamar data deduplication (StorCenter px2-300d only), Mozy Pro, Amazon S3 and Iomega Personal Cloud technology. Personal Cloud allows for remote access and sharing via a web-based architecture that connects the StorCenter unit to other individuals and/or devices via the Internet.
Advanced data replication features allow for easy protection of files to and from attached USB drives or any network shared device, including invited members of a user's Personal Cloud, Iomega said.
The drives are compatible with VMware, Microsoft Windows Server (Hyper-V) and Citrix XenServer-certified virtualization environments.
They also include automated backup capabilities with Time Machine support for Apple OS X users and Iomega QuikProtect for PC users.
A built-in UPnP DLNA Certified A/V media server allows streaming content to multiple media devices.
The px2-300d is now shipping worldwide. The diskless model is $499.99, the 2TB model is $700, the 4TB model is $1,000, and the 6TB model is $1,200.
The diskless version of the ix4-300d is also shipping now for $600. The following storage capacity versions will be available shortly: the 4TB model will be $750, the 8TB will be $950 and the 12TB model will be $1,300.
Latest posts by John Laposky
(see all)