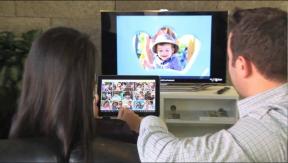 Barcelona, Spain — Hewlett-Packard is going to give the tablet business a second try.
The company announced the Android 4.1-based HP Slate 7 at the Mobile World Congress show, here. The 13-ounce device has a 7-inch display, ARM dual-core Cortex A9 1.6GHz processor, and a 3-megapixel webcam. It has a stainless-steel frame and comes in either red or black.
Shipping will start in April at $169.
The news followed on the heels of HP selling its WebOS to LG Electronics for use in that company's smart TVs.
The Slate 7 is HP's second Google-based product this month. Earlier the company rolled out its first the Pavilion 14 Chromebook.
This is HP's second attempt at breaking into the tablet market. The company launched the HP TouchPad in June 2011, a WebOS-based device, but killed the project after only two months due to lackluster sales. This was despite several price cuts designed to make it more popular. HP finally sold through its product run when it dropped the price to about $100 that fall.
Over the last few years, the company has maintained a minor presence in the category with its enterprise-level Windows 8 ElitePad.
Latest posts by Doug Olenick
(see all)