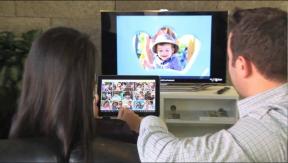 Palo Alto, Calif. — Hewlett-Packard introduced Sunday a convertible touchscreen tablet/notebook PC called the HP Pavilion x360.
The company also revealed that it is expanding its free HP DataPass 3G/4G broadband data service to 12 additional countries, including the United States this summer. The service enables owners of select HP notebook and tablet models connect to the Internet on the go when Wi-Fi isn't available.
The HP Pavilion x360, which will be available starting Feb. 26 (in a red iteration) at a $399 suggested retail, features a hinged screen that allows the display to fold back 360 degrees against the keyboard when the user wants to use the device as a tablet, or back again when a keyboard is desired for heavier writing.
The screen and keyboard can also be folded into a tent shape when users wish to stand the screen up on a desk or table to see photos, videos or presentations.
HP said the Pavilion x360 is as adept at enabling users to easily answer email and write papers as it is at allowing users to watch movies or video chat in stand-up mode without having the keyboard get in the way.
The HP Pavilion x360 will be available in two color options — red and Smoke Silver — and features a fingerprint-resistant soft-touch finish along with brushed aluminum on the keyboard deck.
For music, the HP Pavilion x360 includes built-in Beats Audio, dual speakers and an optimized touchscreen. Users also can access music, stream songs on demand and create playlists with HP Connected Music.
HP is targeting the x360 at young professionals on the go, students and others who can benefit from a versatile portable device weighing 3.08 pounds. It includes an 11.6-inch HD SVA display with 10-point capacitive multi-touch, Intel Pentium, and an HP TrueVision HD webcam.
Meanwhile, HP DataPass enables users to connect to the Internet when Wi-Fi is not available. The company is offering two years of free mobile broadband service for select PCs and tablets.
Ready out of the box, HP DataPass allows customers to simply turn on, register and immediately connect to the Internet with two years of free 3G+ or 4G mobile broadband service powered by Fogg Mobile.
Customers receive up to 250MB per month at no cost and can purchase additional monthly data packages at low rates and without a contract.
HP DataPass is currently available on select notebooks, Chromebooks and tablets in the U.K., Sweden and Denmark and will expand to 12 more countries, including the United States, this summer.
HP DataPass is expected to be available on the HP Pavilion x360 in select regions starting this summer, with additional details to be announced then.
Latest posts by Greg Tarr
(see all)