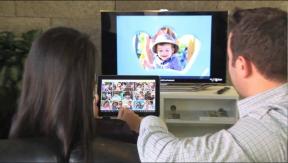 Indianapolis — hhgregg narrowed its first-quarter loss as slightly positive comps and lower costs helped offset decreased profits from CE, computers and wireless.
The multiregional CE, majap and bedding chain reported a $1.3 million loss for the three months, ended June 30, compared with a $5.7 million loss last year. Net sales rose 7.2 percent to $524.9 million, and comps returned to positive territory, edging up 0.8 percent year over year.
Cost cuts, which included reduced wages, benefits and advertising expenditures, led to lower expenses, but lower gross profit margin rates in the CE, computing and wireless categories reduced gross profit margin by four-tenths of a percent to 29.5 percent, pressuring earnings.
In a statement, president/CEO Dennis May said, "The quarter's results significantly outperformed our prior-year earnings comparison, due to our positive comparable-store sales and lapping the cost-cutting measures put in place during the second quarter of the prior fiscal year, and are in line with our expectations."
He added that the company is "pleased with the early results and consumer feedback" on recent product introductions, including furniture and exercise equipment, and that the chain "will continue to expand and refine these category additions throughout the coming year."
He continued: "We remain committed to improving productivity levels across our existing store base and are pleased with the early progress on our strategic initiatives to not only reshape our sales mix, but to expand our customer base and enhance our service offerings."
Broken out by category, the mattress and new fitness equipment and furniture categories enjoyed an 84.5 percent comp increase during the quarter, followed by computing and wireless, up 13.2 percent, and majaps, up 7.5 percent. CE comps, including A/V, personal electronics and accessories, fell 15 percent.
Majaps remain the company's largest product category, representing 52 percent of the sales mix, followed by CE at 34 percent, computing and wireless at 9 percent, and mattresses, fitness equipment and furniture at 5 percent.
Latest posts by Alan Wolf
(see all)