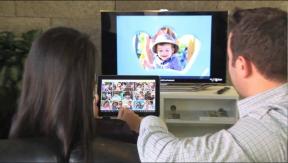 New York — Brightstar has signed an agreement with Harman to become the exclusive distributor of the newly designed Harman Kardon Onyx Studio portable Bluetooth wireless speaker to mobile operators and retailers around the world.
Brightstar said its agreement to offer Harman Kardon audio products will enable its customers to meet the growing demand for wireless accessories. The emergence of mobile music services is transforming mobile devices into entertainment hubs, creating demand for high-fidelity audio accessories. According to The NPD Group, sales of wireless speakers jumped 175 percent to $383 million in the U.S. alone last year, the distributor said.
"The mobile experience is enriched by innovative audio products like the Harman Kardon Onyx Studio portable speaker that allow consumers to unlock the audio/music capabilities of their smartphones," said Javier Villamizar, president of global distribution at Brightstar.
The Harman Kardon Onyx Studio delivers room-sized sound from any compatible handheld device, by connecting wirelessly to any Bluetooth-enabled mobile phone or similar device. The new speaker features a rechargeable lithium-ion battery that allows up to five hours of playing time, providing music playing anywhere without the need of external power.
"Brightstar's global infrastructure, deep wireless experience and strong channel relationships make it an optimal partner as we expand the global reach of Harman Lifestyle products and the Harman Kardon brand," said Dinesh Paliwal, chairman, president and CEO of Harman.
Brightstar will begin shipments of the Harman Kardon Onyx Studio this month. Brightstar will also enable promotional bundling with mobile devices and operator service plans.