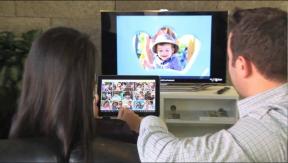 San Francisco – Google unveiled a next-generation Nexus 7 7-inch tablet that boosts CPU and GPU speeds, screen resolution and RAM while reducing weight and depth.
The company also unveiled a $35 2-inch Chromecast dongle that plugs into a TV's HDMI port and, for video- and music-streaming apps running on Android and iOS devices, pulls the services' content directly from the web to the TV via Wi-Fi to preserve the mobile device battery life. The dongle and streaming services are controlled directly from the mobile device.
The Asus-made Nexus 7 is promoted as the first mobile device to run the 4.3 version of the Android JellyBean OS, the first 7-inch tablet with full-HD 1,920 by 1,200 display, a 323-PPI display representing the highest PPI count of any tablet, and the first 7-inch tablet that supports native 1080p playback.
For the first time, the Nexus 7 will be available in an unlocked 4G LTE version, replacing the HSPA+ technology in the previous cellular-equipped version. The LTE version will operate on the AT&T, Verizon, and T-Mobile LTE networks.
The 16GB and 32GB Wi-Fi versions will be available July 30 at $229 and $269, respectively, through the Google Play store and through a larger number of retailers than the previous model. A 32GB LTE version will be available in the coming weeks at $349. The Nexus 7 will be rolled out in other countries in the coming weeks as well.
The new Nexus 7 is priced slightly higher than its predecessor, which was also Asus-made and was launched last October at $199 and $249 for the 16GB and 32GB Wi-Fi versions and $299 for the 32GB HSPA+ model, which operated on AT&T's network and foreign networks.
The new Wi-Fi versions will be available July 30 through these 11 retailers: Best Buy, GameStop, Walmart, Amazon, OfficeMax, Office Depot, Staples, B&H, J&R, RadioShack, and HSN. The brick-and-mortar retailers will also offer the Wi-Fi models through their on-line stores.
Google didn't announce a replacement for its Samsung-made Nexus 10 tablet.
Key upgrades to the Nexus 7 include a quad-core 1.5GHz Qualcomm S4 Pro CPU said to be 1.8x faster than the previous model's quad-core CPU, a GPU with 4x faster frame rate, 2GB of RAM instead of 1GB, dual-band Wi-Fi 802.11n, low-energy Bluetooth Smart, dual stereo speakers, and Fraunhofer virtual-surround technology, which creates a virtual 5.1 soundfield through the tablet's speakers or through any connected headphone.
The tablet also features two cameras, whereas its predecessor had only a front-facing camera for video chats. The front-facing camera features 1.2-megapixel resolution, and the main 5-megapixel camera captures 1080p video.
The device is almost 2 mm thinner than is predecessor's 10.4 mm, and the company shaved 3 mm off the tablet's bezel as well.
The tablet is also 50 grams lighter than its predecessor's 317 grams, and it offers an extra hour of battery life for HD video playback and web browsing.
Other key features include HDMI output, nearfield communications and Qi wireless charging.
The Android 4.3 OS adds multiple features over its predecessor, including native support for Bluetooth Smart, Open GL ES 3.0 for improved 3D graphics, and "restricted profiles," which owner can use to restrict access to apps according to a user's profile.
Google has begun to push 4.3 upgrades to its existing Nexus devices, including the LG-made Nexus 4 smartphone, original Asus-made Nexus 7, and Samsung-made Nexus 10 tablet.
The $35 Chromecast dongle works with YouTube, NetFlix, Google Play Movies and TV, and Google Play Music, but Google has developed an API that streaming services can use to make their apps Chromecast-compatible. Pandora will be one of the first to use the API.
The dongle is available today at Google Play, Amazon and BestBuy.com, and Best Buy will roll out to stores across the country starting July 28.
To simplify use, the dongle switches a TV to the correct HDMI input.
Consumers can also use a laptop's Chrome browser to provide the same functions, though the content would be pushed from the laptop itself.
Latest posts by Joseph Palenchar
(see all)