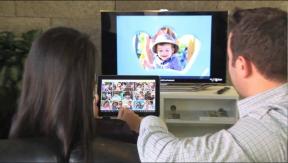 Valhalla, N.Y. — Fujifilm North America unveiled Monday the latest edition in its X series of digital point-and-shoot cameras: the XF1.
The compact camera joins the recently announced X-E1 mirrorless hybrid camera as the company's newest entries leading into this week's Photokina in Cologne, Germany.
The XF1 digital camera, which ships in October at a $500 suggested retail, incorporates the same two-thirds-inch 12-megapixel CMOS sensor employed by the previous announced X-10.
The XF1 is offered in three color options — black, red and tan — and features a synthetic leather wrap over an aluminum body.
The camera has an ultra-compact body design, measuring 4.2 by 2.4 by 1.2 inches, and includes a new retractable 25-100mm f/1.9-4.9 equivalent power-on zoom that retracts almost entirely into the body.
The camera also includes an optical image stabilization system to keep shots sharp.
Slightly twisting the lens automatically turns the camera on, and extends the lens and places the camera into power-saving standby mode. It has a 0.55-second startup time.
Controls are easily accessed via an EFN button that triggers a simple-to-use graphical user interface. The screen produces a cheat sheet to quickly understand the functions available through each of the camera's buttons.
Functions for each button are also customizable for the most frequently used settings.
The camera was designed for high-quality low-light shooting with highly sensitive ISO range from 100 to 12,800. The camera can also macro focus down to 3 centimeters from the lens and adds a 360-degree motion panorama feature.
Other features in the XF1 include a 3-inch LCD, P/S/A/M manual control, built-in pop-up flash, FullHD 1080/30p video capture, RAW still format capability, and 0.16-second AF speed with continuous shoot up to 10 fps.
Meanwhile, Fujifilm also recently introduced its second compact system camera in the X-E1, joining the X-Pro1 which made its debut at International CES last January.
The X-E1 is equipped with the same 16.3-megapixel APS-C X-Trans CMOS sensor and X-Mount lens system as the X-Pro1, but the camera body is 30 percent smaller than the earlier model.
Where the X-Pro1 was positioned more for advanced hobbyists and professional photographers, the X-E1 is targeted at families and more general photo-enthusiastic audiences.
It will be available in two designs: a two-tone black and silver, and a solid black. Both versions of the X-E1 will ship as kits with the XF18mm-55mm (27-84mm) F2.8-4 lens starting in November at a $1,400 suggested retail.
The X-E1 is said to offer a unique color filter array that can effectively minimize moiré and false color without the need for an optical low-pass filter, maximizing resolution and sharpness.
The camera's X-Mount lens system has a short flange back distance of 17.7mm and a mount measuring 2.5mm thin, keeping the rear lens elements as close as possible to the sensor for enhanced sharpness.
Leica M-Mount lenses also can be made to fit the camera using an optional M mount adapter.
Other features include a 2.36-million-dot OLED electronic viewfinder.
The camera body weighs 12.35 ounces, and has a rubber grip for additional stability.
Fujifilm also expanded its XF-lens lineup with the inclusion of the XF14mm (21mm) F2.8 single focal length lens and XF18mm-55mm (27-84mm) F2.8-4 lens. The Fujinon XF14mm (21mm) F2.8 single focal length lens and XF18mm-55mm (27-84mm) F2.8-4 lens will be available in November for $900 and $700, respectively.