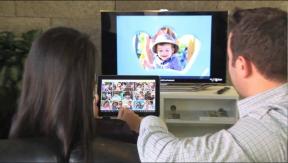 West Covina, Calif. — E Fun expects to grow its tablet sales despite intensified competition and declining margins that have driven other value-priced suppliers out of the market, E Fun sales VP Jason Liszewski told TWICE.
E Fun, a China-based tablet maker and one of the first tier-two Android-tablet suppliers to enter the North American market in late 2010, expects to grow by offering only Google-certified tablets, raising hardware specs to include quad-core models in 2014, and expanding beyond tablets next year to ancillary electronics products designed to be used with proprietary apps running on E Fun tablets, he said.
Google certification enables Android tablets to access the Google Play app and content store, giving users access to more apps than the number available in third-party Android app stores, Liszewski said. "Without Google certification, you can't download the apps that you can get on your smartphone," he explained.
Google certification "drastically reduced our returns on products," he added. "Returns are what kills a company," he said, pointing to tablet return rates running at high double-digit percentages. The return rates of some companies' uncertified Android tablets have hit 30 percent, he claimed.
"Most core CE retailers won't look at anything [tablets] that is not Google-certified. You can't even present it," Liszewski added.
Value-priced competitors who recently left the tablet market did not offer products with Google certification, which mandates minimum performance specs, he noted.
E Fun recently launched two Google-certified NextBook tablets — a $69-everyday 7-inch tablet with 1GHz processor and an 8-inch 1.5GHz dual-core tablet with HD 1,024 by 768 display — through almost all of Walmart's 3,000 brick-and-mortar stores, thanks to Google certification, he said. E Fun also previously sold uncertified E Fun tablets through Walmart's online store. Those tablets accessed only the GetJar app store.
Other reasons that E Fun has been able to maintain and grow its North American tablet presence include parent Yi Fang, a privately held company that is one of three tier-one tablet manufacturers in China. Yi Fang will sell 5 million units worldwide in 2013, up 50 percent from 2012, Liszewski said.
Yi Fang, which also owns Israeli digital-pen supplier Pegasus Technologies, manufactured MP3 players and digital photo frames in the past when those categories were hot, Liszewski noted.
E Fun will leverage its focus on Google certification and planned new models to add additional brick-and-mortar and online distribution this year as well increase sales through existing accounts, he said. The company expects North American sales to double in units this year, with dollar volume growing about 30 percent because of falling ASPs.
E Fun has been selling its tablets for three years through Amazon and the online stores of Best Buy, Walmart and OfficeMax, and it also sells through HSN and such brick-and-mortar chains as software retailer Hastings, Big Lots and OfficeMax. In the first quarter, E Fun left Sears and Kmart, which had been selling uncertified E Fun tablets, and RadioShack is currently selling out an uncertified 10-inch tablet from many of its stores.
With a stepped-up focus on brick-and-mortar distribution, E Fun expects sales through the brick-and-mortar channel to account for about 65 percent of sales in 2013, up from 2012's 50 percent. The company's share of sales through on-line stores will rise to 15 percent from 10 percent in 2012, and the share of sales through HSN will drop to about 20 percent from 40 percent, he projected.
With the company's product improvements and rising volume, Liszewski believes E Fun now competes in the tablet market with such Chinese companies as Acer and Asus in North America. By year's end, he said he expects to become a tier-one supplier as defined by volume.
Latest posts by Joseph Palenchar
(see all)