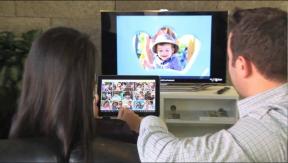 San Francisco – Computer accessories supplier Elgato has begun offering a dongle that turns iPads, iPhones and iPod touches into TV screens for viewing free live mobile-DTV broadcasts transmitted by local stations under the Dyle Mobile TV brand.
The $99 EyeTV Mobile accessory must be used in conjunction with a free EyeTV app, which is available in Apple's iTunes store. The accessory itself is available at www.elgato.com, Amazon and other retail locations.
EyeTV Mobile is the second product available to consumers to receive Dyle TV broadcasts. The other one is Samsung's Galaxy S Lightray 4G Android smartphone, which is sold by no-contract carrier MetroPCS in the 15 markets where it operates its cellular network. The phone launched in August at $459.
More Dyle TV products are on the way, including a dongle planned by Belkin for iOS devices, and Audiovox plans shipments next May of an aftermarket in-car Dyle TV tuner and antennas that can be added to existing rear-seat video systems. It's expected to cost less than $500.
The EyeTV Mobile accessory requires iOS 5.1 or later and plugs into the 30-pin connectors of the iPod Touch (4th generation), iPad, iPad 2, iPad (3rd generation), iPhone 4, and iPhone 4S. With an adapter not yet available, the accessory will also plug into the 8-pin Lightning connector used by the new iPhone 5, iPod Touch (5th generation), iPad (4th generation), and iPad Mini. The company said Apple is developing such an adapter.
The accessory comes with a miniature aerial, a rod aerial with magnetic base and removable suction cup, a printed Quick Start Guide, and a USB charging cable that charges the EyeTV Mobile battery.
The accessory provides such features as pause/resume and access to a detailed program guide (EPG).
Dyle TV was established by the Mobile Content Venture (MCV), a joint venture of 12 major broadcast groups that have adopted the industry-standard ATSC-Mobile format for mobile-DTV broadcasting. Members broadcast free ATSC-Mobile programming using proprietary encryption, but the Dyle-compatible phone will also receive unencrypted ATSC-Mobile from other TV stations if available. The group eventually plans a mix of free and subscription TV programming.
In the 35 markets where Dyle members operate, more than 90 local stations are broadcasting a DyleTV signal, reaching 53 percent of the U.S. population.
Latest posts by Joseph Palenchar
(see all)