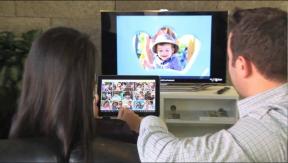 Washington — The Consumer Electronics Association (CEA) said Joe Clayton, president and CEO of Dish Network; U.S. Senator Jerry Moran (R-Kan.); U.S. Congressmen Jared Polis (D-Colo.) and Greg Walden (R-Ore.) will be the honorees at the ninth annual Digital Patriots Dinner, scheduled for Wednesday, April 17, at the Mayflower Renaissance Hotel, here.
The senator and congressmen will be honored for their support of technology innovation, while Clayton will be honored for his role in advancing innovation, CEA said.
"We couldn't be more proud to honor our 2013 Digital Patriots and to launch a new Innovation Policy Ninja Award, recognizing a forward-thinking legislator who advances public policies that will spur innovation for years to come. This year's class has unprecedented passion for technology and supports innovation that is critical to the consumer electronics industry," said Gary Shapiro, president and CEO, CEA in a statement.
"These policy leaders and technology visionaries know that our industry creates jobs, improves lives and drives the American economy. They have all proven themselves as exemplary advocates for advancing innovation."
Clayton, a 40-year veteran of the consumer electronics, telecommunications and satellite communications industries, is the president and CEO of Dish Network and serves on the company's board. Throughout his career, Clayton has been instrumental in the discovery and implementation of numerous consumer electronics products including the VCR, DVDs, satellite TV, HDTV and satellite radio. Clayton was a four-year member of the EchoStar's board and former chairman of CEA.
Senator Moran successfully led the opposition to defeat the Protect IP Act (PIPA), because of its impact on innovation, free speech and national security. He also is active in encouraging Congress to develop smart spectrum policy and is the author of Startup Act 3.0, a bipartisan bill that seeks to unleash the job-creating power of entrepreneurs to innovate, create and grow the economy, CEA said.
U.S. Congressman Jared Polis was a foe of the Stop Online Piracy Act (SOPA), and fought to defeat SOPA saying it would "destroy the internet as we know it." Representative Polis is a champion for technology having co-founded his first company, America Information Systems, while attending Princeton University, CEA said.
U.S. Congressman Greg Walden will be honored with the inaugural Innovation Policy Ninja Award for his work as the lead champion of crucial spectrum reform legislation last year, and for his leadership and foresight that will enable the advancement of wireless innovation for decades to come, the association said.
All proceeds from the Digital Patriots Dinner will be donated to Bright Beginnings and the CEA Foundation.