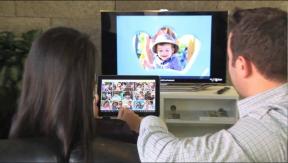 Mahwah, N.J. — Denon unveiled In-Command networked A/V receivers that start at a slightly lower opening price point, expand the series' selection to five models from four, and include some new features.
Four new models shipping next week join a carryover flagship $2,499 model. The new models start at a suggested $499, down from the previous line's opening price of $649.
Like last year, all In-Command models feature built-in AirPlay, DLNA networking, and Internet radio but no built-in Wi-Fi or optional Wi-Fi dongle.
The new In-Command AVRs are the $499 5.1-channel AVR-X1000, $699 7.1-channel AVR-X2000, $999 7.1-channel AVR-X3000, and $1,299 7.2-channel AVR-X4000. They join a trio of E-series AVRs launched earlier this year at $249, $399 and $599, with AirPlay, DLNA and Internet radio starting at $399.
With the In-Command launch, Denon is bringing DTS Neo:X post processing down to a suggested $999 from $2,499, enabling users to add a pair of front-height channels or a pair of front-wide channels to a traditional 5.1-channel setup. In the $1,299 AVR, Neo:X can be used with an add-on stereo amplifier to deliver 9.2-channel DTS Neo:X.
The line also drops the opening price for Audyssey MultEQ XT32 and Audyssey Sub EQ HT Dual subwoofer EQ calibration from $2,499 to $1,299. Mult EQ 32 is a more sophisticated version of Mult EQ XT technology appearing in all of the lower priced In-Command AVRs to compensate for a room's acoustics. Sub EQ HT ensures that the level and delay for each subwoofer in a two-subwoofer sound system are correct to deliver best bass response.
In another change, the new models feature less chassis depth for easier placement in tight places.
All four new models access vTuner Internet radio stations, Pandora, Spotify, and SiriusXM Internet Radio, and they are Windows 8/RT compatible. They use DLNA 1.5 to stream music and photos from a PC, and they access Flickr to stream photos from the web. All four also feature Made for iPod/iPhone/iPad USB, remote control from smartphones via a Denon app, variable multizone pre-outs, I/P control, web configuration, I/R serial inputs, detachable power cord, connectivity with home-control systems, fully assignable digital and analog A/V inputs, and new HDMI video select functionality.
The $999 and $1,299 models add multiple HDMI outputs with discrete matrix switching and, for the first time, support for HDMI audio-input analog conversion for multi-zone playback.
4K HDMI passthrough and upscaling start at $699 compared to $649 in the previous series.
The lineup starts with the $499 AVR-1000, rated at 5×80 watts and featuring multizone preamp outputs, front Apple-certified USB, front HDMI port, Audyssey Dynamic EQ, Audyssey Dynamic Volume, Audyssey MultEQ XT, proprietary compressed-music restorer, and HDMI 1.4a inputs and outputs.
At $699, the 7×95-watt AVR-X2000 adds 4K passthrough and up-scaling, high-performance 192kHz/24-bit D/A converters for all channels, and ability to assign two of seven channels to drive a pair of speakers in another room.
At $999, the 7×105-watt AVR-X3000 adds dual HDMI outputs with discrete matrix functionality, while Audyssey DSX post processing can be used to add a pair of front-height or pair of front-wide channels to a traditional 5.1-speaker setup. Audyssey DSX started at $899 in the previous line. The AVR also features DTS Neo:X post processing to add a pair of front height or pair of front-wide channels.
At $1,299, the AVR-X4000 adds three-zone capability, HD Radio, three HDMI outputs with discrete matrix functionality, and 9.2-channel capability with the addition of a two-channel amp.
Latest posts by Joseph Palenchar
(see all)