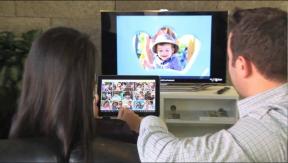 Thousand Oaks, Calif. — SunBriteTV on Wednesday revealed the winner of its 2013 inaugural Backyard of the Year contest.
Creative Audio Video and Automation of St. Louis was handed the grand prize — a SunBriteTV Signature-series 65-inch LCD TV, model 6560HD — for submitting an installation featuring a custom mounting surface, poolside swim-up bar and a SunBriteTV.
The home owners, Chris and Tom Reinbold, of St. Louis, received two Soundcast speakers, two outdoor heaters and a Lynx grill. The prize package totaled $7,000.
Creative owner Kevin Burnley said: "We had worked with the client before, and he had already built the pergola and the swim-up bar. Our biggest challenge was finding a way to mount the SunBriteTV to the pergola while preserving the view — a custom mount ended up being the perfect solution."
The winner was selected in January, and formally announced this week, the company said.
The installation, which spanned three months from planning stages to completion, features two Polk Atrium6 speakers mounted to the pergola, two concealed Atlas Sound GST-G speakers in the ground, and a SunBriteTV Signature-series 32-inch 3260HD.
Creative Audio Video and Automation was established in 2011 and has been anchored by Burnley's more than 18 years of experience in the custom install business.
"We've exclusively used SunBriteTV in all of our outdoor installations since day one," said Burnley. "Many customers approach us and ask about installing an indoor TV outside — this is something we refuse to do not only for their safety, but our own liability."
Designed for permanent installation outdoors, SunBriteTV's outdoor televisions feature specialized gaskets and insulated electronics meant to keep all wiring safe from every kind of natural element, from moisture to insects. All models function in temperatures spanning -24 to 122 degrees F and feature ruggedized exteriors that can handle any climate, according to the company. The bright, anti-glare screens are specially designed to deliver bright HD images outdoors, day or night.