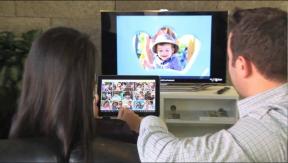 Petaluma, Calif. – Nortek subsidiary Core Brands plans fall shipments of the first two products in its Korus-branded wireless multi-room audio line, which is intended for do-it-yourselfers.
The $399 V600 and $299 V400 amplified tabletop speakers will be available at KorusSound.com and in retail outlets this fall, said the company, which markets multiple custom-install brands.
The speakers stream music up to 65 feet or more without the use of a Wi-Fi network from Apple mobile devices, PCs and Windows tablets equipped with a Korus Baton wireless audio transmitter. Batons will be available with 30-pin and Lightning eight-pin connectors for Apple mobile devices and with USB port for connection to PCs and game consoles. A wireless transmitter for Android mobile devices will be available in 2014. The Batons also control the speakers.
Consumers will be able to stream audio to up to four speakers simultaneously from one device or from separate devices, the company said.
The initial Korus products will be compatible with iPads, iPhones and iPods as well as with Macintosh computers and Windows 8 laptops, PCs and tablets, the company said.
The system will play back audio from a mobile device's local library and from the device's music-streaming apps, video apps and games.
The systems use 2.4GHz SKAA wireless technology developed by Eleven Engineering. It's promoted as offering "consistent and reliable signal connections without latency issues." Audio is transmitted at data rates up to 480Kbps compared with 201Kbps for Bluetooth speakers, the company said. The technology uses a patented Walking Frequency Diversity protocol that detects conflicts and "hops" the audio signal out of the way of the interference to prevent dropouts and pops.
SKAA's latency, or lag time from the music source, is 40ms, less than 120ms said to be typical for Bluetooth, the company added.
Rob Halligan, group marketing and strategy VP for Nortek's technology solutions group, contended the products are "highly disruptive" because of the wireless signal's reliability, ability to stream audio from up to four separate devices at a time, and an easy setup process that doesn't require "tedious and complicated pairing or network-password logins."