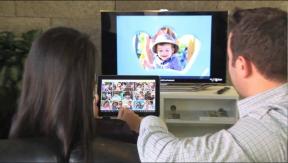 Seattle — Action video camera resource Contour followed up the recent launch of its Contour +2 camera by unveiling Tuesday its next-generation entry model, the Contour ROAM2, and by announcing a new relationship with Best Buy, which will carry its cameras in stores across the country.
Like the Contour +2, the Contour ROAM2 ($199 suggested retail) is targeting action-seekers looking for new ways of capturing their outdoor point-of-view adventures in style.
The ROAM2 model will be offered for the first time in a choice of color options including black, red, green and blue. In addition, video quality has been improved from the previous generation to include four HD shooting modes including FullHD 1080p and 720p, both at up to 60fps.
Other key features of the Contour ROAM2 include: a locking instant on-record switch; a waterproof to one meter design; still photo mode with nine time intervals; and eco-friendly packaging.
"We've found the category is becoming more of a fashion and lifestyle product," said Marc Barros, Contour CEO.
To begin its entry into Best Buy stores on Oct. 21, Contour has developed selling-floor materials to better leverage "the two-foot" point-of-purchase experience by communicating the benefits of the Contour +2 ($399), Contour ROAM2 models and range of accessories.
Some of the displays are designed with a powered video display and some without, Barros explained. Accessories sold with the cameras include: various mounts, a power charger and carrying cases.
Barros said there are approximately 10 accessory SKUs.
Outside the store, Barros said Contour has a co-op marketing campaign planned with Best Buy for the fourth quarter.
On camcorder row, Barros said Best Buy will position the Contour products next to rival Go Pro's action video cameras to help develop the action video camera sub-category in the traditional camcorder department.
"What's really exciting about Best Buy taking an interest in this category is that all the traditional CE players, except for Apple, are struggling right now. And for Best Buy to take a couple of companies that have come out of nowhere like this, I think, is really interesting," said Barros.
He pointed out that some of the traditional brands have now started to come out with action video cameras of their own, "in sort of a repeat of what happened with the Flip [pocket video camera]."
"But Best Buy has chosen to go with a couple of relative unknowns to represent the action video category," he added.
Best Buy is the first major national brick-and-mortar CE retailer in Contour's distribution base. The sell both directly online and through a wide class of special photo retailers. The company's Contour +2 was also recently added by Apple stores.
Latest posts by Greg Tarr
(see all)