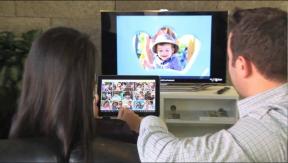 Kirkland, Wash. – Digital cable tuner manufacturer Ceton this week announced an exclusive pre-order program with Newegg.com for the upcoming Ceton Echo Windows Media Center Extender.
Consumers can now pre-order the Ceton Echo at Newegg for $179 and receive a $10 Newegg gift card as well as free shipping.
The Ceton Echo is expected to ship to pre-order customers by Nov. 30 on a first-ordered/first-shipped basis.
The Ceton Echo is a next-generation Windows Media Center Extender and sidekick for a Windows Media Center PC. Using it will enable a PC to tune live TV record shows like a DVR and relay digital entertainment to another TV set without requiring a set-top box.
Up to five Ceton Echos can be added to a Windows Media Center PC for a whole-home entertainment experience, including adding a DVR on every television set.
If a Media Center PC includes a TV tuner that supports premium cable channels, like a Ceton InfiniTV tuner, the Echo can be used to watch subscribed premium channels like HBO, Showtime and Starz from any TV set.
The Echo also allows viewing personal media libraries of photos, music, movies and videos from any Echo-connected TV. The Echo is compatible with Ceton TV tuners as well as non-Ceton tuners.
The Echo also enables avoiding set-top box leasing fees and DVR fees.
With lease fees typically costing more than $200 per year per DVR, the Echo can pay for itself in about 10 months.
Combining the savings from set-top box lease fees and power usage means that, at the end of the first year, the Echo can have paid for itself and saved you up to $75 per TV, Ceton said.
Latest posts by Greg Tarr
(see all)