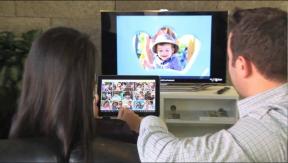 San Francisco – The Consumer Electronics Association's (CEA) 19th Annual Holiday CE Purchase Patterns Study predicts overall retail sales will be up 3.4 percent this year.
All e-commerce sales will be up 13.5 percent for the holidays, according to Shawn DuBravac, chief economist and senior director of research for CEA, and holiday electronics and appliance retail sales will be up 2.2 percent, up slightly from last year.
In the report, released Tuesday during the CEA Fall Forum, being held here this week, 66 percent of consumers say they plan to spend the same or more compared with last year, and 76 percent of those consumers surveyed intend to buy a CE product, the same as last year.
Overall holiday season spending is expected to be up 11 percent from 2011 with the average consumer spending $1,634;
-On average, half of the average holiday budget ($842) will be devoted to gifts, up 9 percent from 2011 ($772);
-The top recipient of CE gifts will be children, as almost half of U.S. adults (45 percent) plan to give them a CE device;
-About one in three consumers will purchase CE for themselves (31 percent) or their spouse/significant other (34 percent) and one in five plan to purchase CE devices for their parents (22 percent);
-On average, 30 percent of the average expected gift-giving budget ($252) will be allocated to CE, 2.4 percent higher than last year; and
-More than half of U.S. adults (55 percent) are likely to purchase a CE product for themselves or their household that won't be given as a gift this holiday shopping season.
The CEA survey points toward a strong holiday season for the CE industry. Consumers will still spend in light of the economy's slow recovery as indicated by increasing holiday budgets.
Portable computing products will lead the way as the products consumers want most and are the top products they plan to purchase as gifts.
Price remains an extremely important factor for gift giving. As increasingly deal-savvy consumers search for the best available prices, comparison shopping in stores and on the Internet will also likely be extremely important, the industry group said.
Here are some other notable survey findings:
Men, younger consumers and those households with children are predicted to be the biggest purchasers of CE products this holiday season.
For holiday wish lists tablets are the top mention among consumers (8 percent), "even more than cash [5 percent] or peace and happiness [5 percent] according to our survey," said Steve Koenig, CEA's director of industry analysis. However demand has declined for notebook computers, signaling the strength of tablets in the computing space.
Among the people who most want a tablet, there are more women (57 percent) than men (43 percent).
On the CE gift giving side, computing products, especially portable devices, remain some of the most desired and continue to find their way into the top gifts consumers plan to give.
Smartphones lead the way as potential gifts (29 percent, up from 21 percent in 2011) along with tablets (27 percent, up from 20 percent last year) and laptops (25 percent).
Competing with portable computing devices at the top of the gift giving list are DVD/Blu-ray players (25 percent) and MP3 players (22 percent down 4 points from 2011). TVs, video game consoles, e-readers and external storage devices are also probable gift purchases for approximately 20 percent of U.S. adults.
Half (50 percent) of consumers who most want an HDTV this holiday season are between the ages 25-44.
For consumers seeking to gift TVs, LED LCD TVs and regular LCD flat panels are most likely to be purchased, as noted by 76 percent and 72 percent of potential TV gifters, respectively.
Consumers are also quickly moving toward more Internet-connected TVs (63 percent, up from 51 percent in 2011) and 3D-capable TVs (45 percent, up from 28 percent). TVs 55 inches and over are taking more and more of the market, CEA reported.
Digital SLR camera sales will increasing while point-and-shoot camera sales have dropped and will not be strong due to the popularity of smartphones, CEA said.
CE accessories are likely to be popular gifts again this holiday season. Nearly three in 10 U.S. adults are expected to purchase headphones/earbuds (29 percent) or carrying cases (29 percent, up from 25 percent in 2011). Additional memory cards (24 percent) or video game accessories (20 percent) also rank high.
As for consumer behavior, CEA sees more holiday shopping in November right before and during Black Friday weekend, a result of retailers pushing Black Friday-like deals earlier to consumers.
November continues to be the most popular month for consumers to begin holiday shopping with nearly four in ten adults (39 percent, up from 35 percent in 2011) beginning at this time. More than a quarter (26 percent) of consumers plan to begin their shopping between Thanksgiving and the end of November.
Only 16 percent began their holiday shopping in September or earlier whereas one in four (25 percent) plan to wait until December.
Most consumers (79 percent) think overall holiday shopping deals and Thanksgiving weekend deals (81 percent) will be as good, or better than last year.
Consumers use a variety of channels to learn about holiday deals including talking to friends and family members, advertisements, mail, television and newspapers. Consumers are also increasingly turning to the Internet, CEA said.
Comparison shopping with apps on smartphones and cellphones continues to impact the market with 41 percent of consumers saying that they will do that.
Almost half (47 percent) view online advisements, 38 percent receive email notifications, 28 percent obtain information on social media sites and 24 percent on deal of the day or flash sale sites.