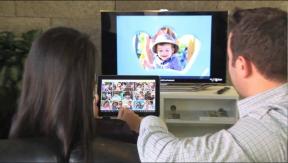 San Francisco – The Consumer Electronics Association (CEA) announced the election of its 2013 Executive Board and Board of Industry Leaders.
The members of CEA's Executive Board were confirmed by a vote of CEA's members at the CEA Industry Forum, here, this week. Newly elected CEA Executive Board Members include: David Hagan, president and CEO, Boingo; Ron Freeman, CEO, AAMP of America; and David Hanchette, marketing VP, Legrand.
Jay McLellan, president and CEO, HAI by Leviton, and Pat Lavelle, president and CEO, Voxx International, continue to serve on the Executive Board as chair and vice chair respectively. Randy Fry, president, Fry's Electronics remains on the Executive Board as past chair.
Previously elected CEA Executive Board members who will continue service include the following:
Gary Yacoubian, president, CEO and managing partner, Specialty Technologies, LLC;
Denise Gibson;
Phil Molyneux, president and COO, Sony Electronics;
Steve Tiffen, president and CEO, The Tiffen Company;
Mike Vitelli, president, US and executive VP, Best Buy; and
Robert Fields, sales and marketing VP, Aridian Technology Company
CEA president/CEO Gary Shapiro continues to serve on the Executive Board along with Glenda MacMullin, COO and CFO, CEA, serving as treasurer and Karen Chupka, senior VP, events and conferences, CEA, serving as secretary.
CEA also announced the election of its 2013 Board of Industry Leaders (BIL). The BIL serves CEA and its Executive Board in an advisory role, helping to set public policy position and priorities for association activities. New members of CEA's BIL include:
Jim Braun, president and CEO, Dual Electronics;
Eric Davidson, president, American Automation and Communications;
Peter Fannon, corporate & government affairs VP, Panasonic;
Jim Hamilton, corporate VP/general manager of Global Retail, Motorola Mobility;
Benjamin Hartman, consumer electronics VP, Amazon.com;
Noel Lee, Head Monster, Monster Cable Products;
Denise Morales, VP, Beats by Dr. Dre
Dan Novak, global marketing VP, Qualcomm;
Daniel Pidgeon, chairman, Starpower
Eric Reed, entertainment and tech policy VP, Verizon;
David Rodarte, president/COO, NuVo Technologies LLC;
Michael Troetti, president, Coby Electronics Corp.;
Sally Washlow, senior VP, marketing & sales, Cobra Electronics Corp.; and
Ken Wirt, consumer marketing VP, Cisco Systems
CEA members who are continuing their service on The BIL in 2013 are as follows:
Jim Bazet, chairman/CEO, Cobra Electronics;
Doug Cole, senior VP/general manager, Universal Remote Control;
Kim Folsom, founder and CEO, ShowUhow;
John Godfrey, government and public affairs VP, Samsung Information Systems America;
Joellyn Gray, marketing director, Fujifilm North America;
Joe Hartsig, VP and GMM technology and entertainment, Office Division, Sam's Club;
Loyd Ivey, chairman and CEO, Mitek Electronics and Communications;
Glenn Lurie, president of Emerging Devices and Resale, AT&T;
Craig McHugh, CEO, Cambridge Soundworks;
Mike Mohr, president, Celluphone;
Robert Struble, president and CEO, iBiquity Digital;
John Taylor, VP, LG Electronics USA;
Joseph Taylor, chairman/CEO, Panasonic Corporation of North America;
Brian Wiser, specialty solutions division senior VP, Ingram Micro;
Tim Baxter, president, Consumer Electronics Division, Samsung Electronics America;
Scott Burnett, managing director of CE, IBM;
Mike Dunn, President, Twentieth Century Fox Home Entertainment Worldwide;
Ian Geller, business development VP, Pandora Media;
Bill Holmes, business development VP, Netflix;
David Inns, CEO, GreatCall;
Henry Juszkiewicz, CEO, Gibson Guitar;
Kenneth Lowe, co-founder and VP, Vizio;
Mark Luden, president and CEO, The Guitammer Company;
David McCalpin, GM, home energy management, GE Appliances;
Dean Miller, president, Lenbrook America Corp.;
Eliott Peck, VP/general manager, sales, Canon USA Inc.;
Scott Ramirez, VP marketing, Toshiba America Consumer Products; and
Jake Sigal, founder and CEO, Livio Radio.