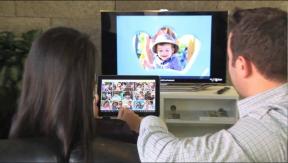 Eagan, Minn. — Capitol has signed a distribution agreement with Nest Labs to sell the popular Nest Learning Thermostat and Nest Protect: Smoke + Carbon Monoxide alarm.
"Nest products are intuitive and add real value, keeping people comfortable and safe in their homes," said Curt Hayes, Capitol's president/chief financial officer. "The Nest Thermostat has already saved almost 2 billion kWh across its install base and the Nest Protect: Smoke + Carbon Monoxide alarm is giving families across the country peace of mind that their homes are safe."
Gene LaNois, Nest general manager of the professional channel, said, "Our goal is to make every home more conscious and efficient. Capitol can help us by getting our products into the hands of integrators and installers who really understand the dynamics of home automation and can guide customers through the process."
The Nest Learning Thermostat is easy to install and is compatible with most low-voltage home heating and cooling systems in the U.S., Capitol said. The thermostat learns the homeowner's heating and cooling preferences over time, maximizing comfort while minimizing energy usage.
Nest's iOS and Android apps turn smartphones and tablets into remote controls, enabling users to monitor, manage, and track the temperature of their homes. Plus, the unit's Wi-Fi compatibility and apps receive free updates to ensure continuous improvements.
The Nest Protect: Smoke + Carbon Monoxide Alarm has a photoelectric smoke sensor, carbon monoxide sensor, heat sensor, light sensor, activity sensor and ultrasonic sensors. It is available in a wired 120-volt version as well as battery-powered model and can be programmed to communicate in English and Spanish, the company said.
Instead of simply sounding an ear-piercing alarm at the first sign of smoke or carbon monoxide, Nest Protect provides a friendly "Heads Up" warning, with a voice alerting occupants that levels are above normal, before issuing a loud alarm when those levels become critical, Capitol said.
Nest Protect is also Wi-Fi compatible and has iOS and Android apps, enabling the user to receive remote warnings of both Heads-Up and emergency alarm notifications — along with low-battery alerts. A proprietary mesh network enables interconnectivity to ensure that alarms sound in all detectors throughout the house and not just the one located closest to the danger. And, in the event of a carbon monoxide alarm, it will tell the Next Learning Thermostat to shut down the gas furnace, if the house is equipped with one, as that is often the cause of such build-ups.